You'll forgive Craig Tiley if he's sprouted an extra gray hair or two in recent months. The Tennis Australia CEO had been tasked with the formidable challenge, after all, to host a global sporting event amidst a global pandemic.
His plan was ingenious, really, though even Tiley anticipated a few stumbles along the way. The Australian Open had already been pushed back from its original start date of 18 January to 8 February, with qualifying rounds moved to Doha and Dubai. Alternating between the roles of tournament director and ad hoc health administrator, Tiley, never more removed from his days as tennis coach at the University of Illinois, would bring some 1,200 athletes and coaches to Melbourne on more than a dozen chartered flights from all corners of the world.
"We have now a chance to showcase our ability as the major events capital of the world, as well as our capability of delivering these events in what is a very challenging time for all of us," said Tiley of the ambitious agenda, which included the lead-up Great Ocean Road Open, Murray River Open, ATP Cup and three WTA 500 events.
In addition to daily COVID-19 testing, the new arrivals would be required to quarantine in their respective hotel rooms, which in itself produced some comedic results. Oh, the ingenuity. Pablo Cuevas invented the sport of bed surfing; Tennys Sandgren shoulder-pressed his stationary bike; Denis Shapovalov ran serpentine sprints in his entryway; Bernard Tomic's girlfriend, the reality TV star Vanessa Sierra, was forced to shampoo her own hair.
When news of positive COVID tests traced to the flights from LA and Doha surfaced, 72 players were forced into "hard" quarantine. While others were allotted five hours of supervised daily release that included practice time, they were mandated to hold up in their rooms for 14 days.
If ever there were a labour of love, this was it. Both financially and otherwise.
TA reportedly poured some $AU40 million into the logistical effort, knowing all along that a reduced crowd capacity would cost the governing body millions more. This while offering $AU80 million in prize money. When the tournament finally got underway, it was a revelation; actual spectators in the stands, cheering on their racquet-wielding heroes. For some, it felt like time travel, a return to the pre-COVID existence they once knew.
"We have to be very thankful for being able to play a tournament in the middle of a pandemic and to pull that through in such a tough and delicate moment," said Grigor Dimitrov, who went on to reach the quarter-finals. "We all know what is going on in the world. It's tough. It's very uncomfortable. It makes life difficult for so many, not only for us as athletes but for people around the world. For us to be able to play, to perform, it means a lot."
"We're lucky to be able to keep doing our job, without a doubt. We can't complain at all," echoed second seed Rafael Nadal, who likened the tournament, and all its moving parts, to a traveling circus.
Those stumbles anticipated by Tiley would indeed come. Midway through the fortnight, a cluster of coronavirus cases surfaced at an airport hotel, leading Daniel Andrews, Premier of the Australian state of Victoria, to implement a five-day lockdown, meaning that matches would temporarily be played in empty arenas. It was a surreal moment when the lockdown kicked in at midnight; those in attendance for the gripping third-round clash between Novak Djokovic and Taylor Fritz filed out of Rod Laver Arena with the witching hour approaching, the outcome yet to be determined.
"Well, definitely one of the strangest matches that I was ever part of," said Djokovic, who fought through a third-set tumble to prevail in five sets. "It's unfortunate for the crowd that we didn't finish the match with them seeing the end."
Somehow the show went on. Whether they were lucky enough to be at Melbourne Park or watching from the couch at home, fans were treated to some epic tennis. They witnessed the feel-good resurfacing of a pair of Aussie fan-favourites, Nick Kyrgios and Thanasi Kokkinakis. (One hadn't played in 11 months; the other hadn't won a main-draw match at his home Slam in a half dozen years.)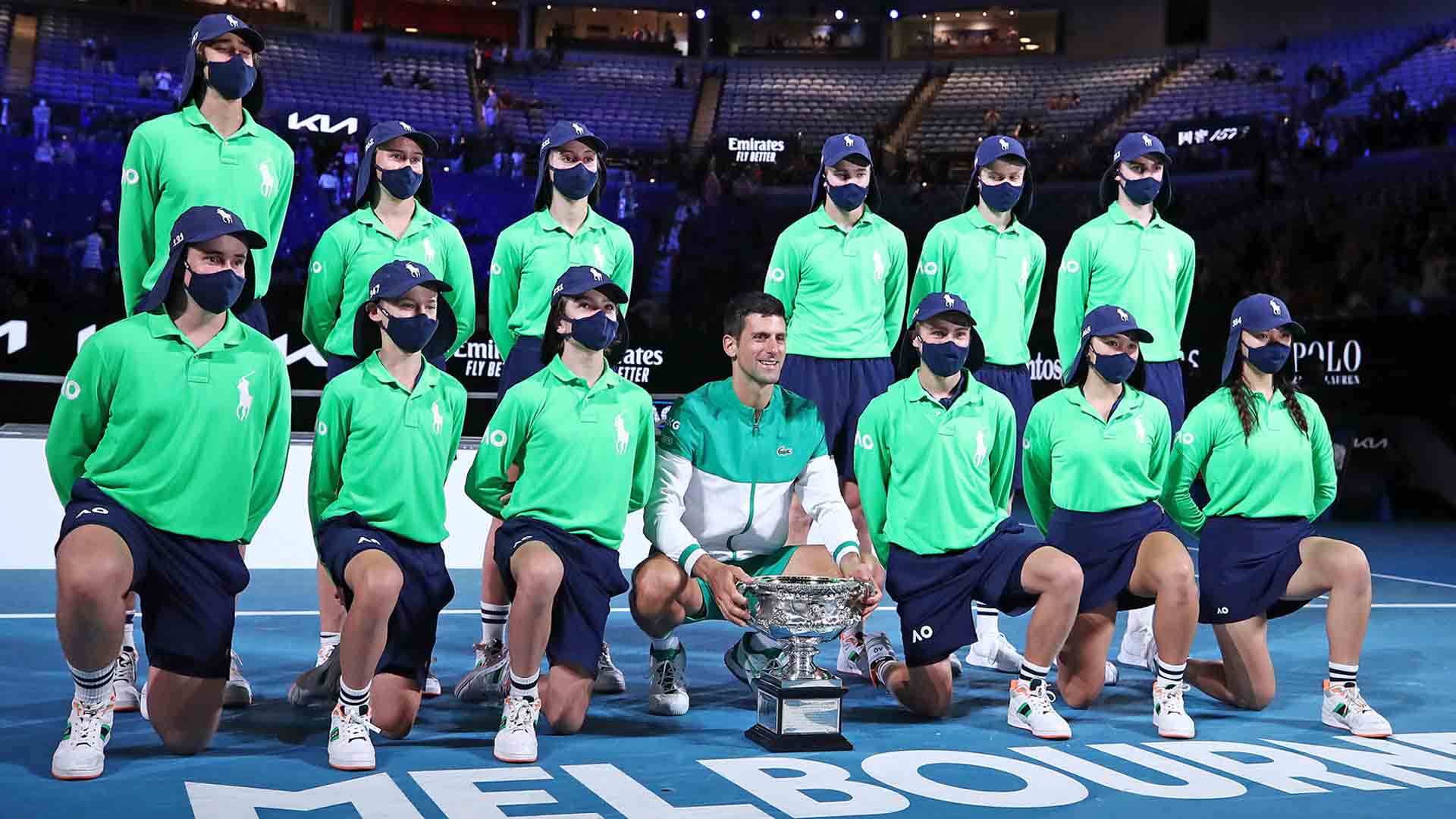 They saw Iron Man Feliciano Lopez, 39 and playing in his record 75th consecutive major, storm back from two sets down in the second round. They saw an all-but-unknown, 114th-ranked Russian with a name straight out of The Chronicles of Narnia, Aslan Karatsev, become the first man in the Open Era to reach the semi-finals in his Grand Slam debut. They saw Stefanos Tsitsipas pull off a rarity, overcoming a two-set deficit against Nadal, something that's now happened only twice in 225 Grand Slam matches when the Spaniard had a two-sets-to-love lead. The list goes on.
No, it wasn't the first event to be played in COVID conditions. That distinction went to the Western & Southern Open (won by Djokovic), held at the Bille Jean King National Tennis Center leading into the 2020 US Open. Roland Garros found against-the-odds success last year, too, moving from its usual May-June to a chilly, low-bounce September-October. Many ATP Tour events recalibrated in the latter part of 2020 after play on the Tour resumed, and ATP added a number of single-year licences to tournaments in 2020 and 2021 to provide playing opportunities for players.
But the 2021 Australian Open should be celebrated in its own right, for the many obstacles it overcame. It was proof that we can indeed hang on to some sense of normalcy – such as Djokovic again being the last man standing in Rod Laver Arena – in this changing world.
Hopefully, Craig Tiley, and his dedicated team at Tennis Australia, are headed for some beachside recliners for a well-earned stretch of R&R. It was worth those gray hairs in the end.