When the Utah Jazz reconvened for training camp in December, they'd had three months to think about how the prior season had ended: with Mike Conley's potential game-winning 3-pointer somehow spinning out against the Denver Nuggets.
During those three months, the Jazz thought over and over again about that shot rimming out, about the 3-1 lead they'd blown in that series, about failing to make it out of the first round of the Western Conference playoffs for a second straight season. And they came back for the start of this campaign determined to make sure things would go differently this time around.
"I really feel like we came back this year with a purpose," Utah center Rudy Gobert said. "I really feel like we have a chip on our shoulder, and we need that if we are going to do what we want to do this year."
After their latest victory Tuesday night, a 122-108 decision over the visiting Boston Celtics, the Jazz are now an NBA-best 20-5 this season and have won 16 of their past 17 games.
2 Related
And unlike the other teams floating around them at the top of the NBA ecosystem — the Los Angeles Lakers, LA Clippers, Milwaukee Bucks and Philadelphia 76ers — Utah doesn't have a true superstar on its roster. Instead, the thing that has carried the Jazz to this point through a third of the season is an ensemble cast that is working in perfect harmony.
The result is a team that is playing as well as any other in the league and is steamrollering through its opponents on a nightly basis.
"Anytime you see a team kind of mold itself for the players and coaches, that's gratifying," Jazz coach Quin Snyder said. "When you have a team that collectively tries to play a certain way, and is committed to that, I think that's what we have."
Part of the commitment the Jazz have comes from the way last season ended. The entire 2019-20 campaign, frankly, was a challenge for Utah. The team expected to make a push forward last year after trading for Conley, only for him to struggle mightily to adjust to playing on a team other than the Memphis Grizzlies for the first 12 years of his career. Then the Jazz added Jordan Clarkson to boost their bench scoring during the season — only to lose starting forward Bojan Bogdanovic for the team's time in the Florida bubble due to wrist surgery.
And all of that, of course, pales in comparison to Utah being at the center of the league shutting down last March for several months after Gobert and Donovan Mitchell, the team's two stars, tested positive for COVID-19.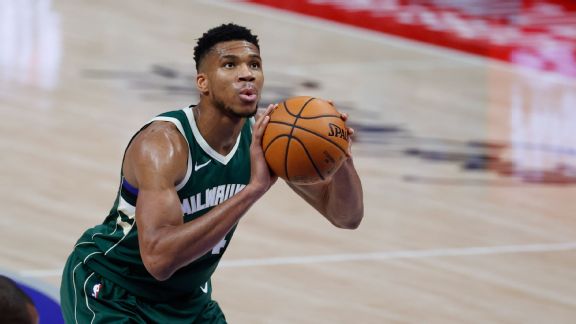 The NBA is back! Catch all the 2020-21 season action on ESPN, ABC and the ESPN App.
Wednesday, Feb. 10
• Hawks at Mavericks, 7:30 p.m. on ESPN
• Bucks at Suns, 10 p.m. on ESPN
All times Eastern
But rather than all of that — as well as Utah's heartbreaking loss to Denver — causing the Jazz to splinter apart, it instead sent them into the offseason determined to create something better.
"I think, you know, the biggest thing that went into it was just our motivation over the offseason," Mitchell said. "Guys coming in. I look at Royce [O'Neale]. People don't look at Royce because we don't play on TV, but you look at Royce, and he came in the best shape of his career this year. The determination in that sense. You see the product on the floor, but I think the biggest thing is what you see off the floor.
"He and I went to Miami and worked out three or four weeks straight. The things I saw him do, I haven't seen him do in his four years. Not to say he doesn't work hard, but he took it to another level."
"I think that is where we saw the difference. We saw the work ethic take another leap," Mitchell explained.
What else has helped the Jazz has been that, in a season when so many things are up in the air for so many teams, Utah knows exactly what it is and what it wants to be.
After his initial growing pains last season, Conley — who currently is out with a hamstring injury — played better in the bubble, and he has been outstanding to start this season. Bogdanovic has returned from his wrist surgery and is beginning to round into form. Joe Ingles is shooting career-high percentages across the board. And Clarkson is the runaway leader, at the moment, to win the league's Sixth Man of the Year Award. Meanwhile, the one prominent player Utah added during the offseason — big man Derrick Favors — had spent the vast majority of his first nine seasons in Utah before being dealt to the New Orleans Pelicans last offseason, leaving him extremely familiar with what it was the Jazz would want him to do.
And, of course, the team has seen continued excellent play from its stars. Gobert remains the league's premier defensive player, anchoring a Jazz unit that, despite adding more offensive-minded players in recent years, still ranks third in the NBA. Mitchell, on the other hand, entered Tuesday shooting a career-best 41.6% from 3-point range — and that was before going 6-for-13 from the 3 line as part of his game-high 36 points.
Despite Mitchell's shooting exploits, it was telling after the game that the thing he, Snyder and Gobert all talked about instead was Mitchell's decision-making: Playing point guard for the injured Conley, he had nine assists and just two turnovers in 36 minutes.
"Decision-making," Gobert said, when asked where Mitchell's biggest improvement has been this season. "He's really able to understand the tempo of the game and be able to find his teammates.
"I think he's improved every single year, but this year is really the year it's advanced — and when he does that, the team just goes to another level."
Donovan Mitchell pulls up to sink a 3-pointer and draws the foul on Tristan Thompson to go to the free throw line.
The Jazz know what level they want to reach this season. It has been 13 years since Utah last reached the Western Conference finals, when Deron Williams and Carlos Boozer led them there in 2007 and they lost to the Spurs. It's been 23 years since Utah last reached the NBA Finals, when John Stockton and Karl Malone lost to the Chicago Bulls for a second straight season.
Time will tell if Utah has the ability to reach that level, though the numbers at least give them a fighting chance. Utah is the only team in the league in the top five in both offensive and defensive efficiency. The only others in the top 10 in both categories? The Lakers and Bucks. And while questions will still linger about whether the Jazz will have difficulty slowing down teams that can draw Gobert away from the rim, Utah's added punch offensively — the Jazz are leading the NBA in 17 3-pointers made per game — give them a balance they didn't previously have.
And for those who are unsure of how high Utah's ceiling is ultimately, the Jazz will have plenty of opportunities over the next couple of weeks to make their case. Starting with Tuesday's win over Boston, the Jazz have a stretch of eight out of nine games against some of the league's elite teams: the Celtics, Bucks, Miami Heat (twice), Sixers, Lakers and Clippers (twice).
Ultimately, though, the Jazz aren't worried about what happens over the next two weeks. Instead, it's about being ready for what lies even further ahead — and to make sure they don't have the same bitter taste in their mouths at the end of this season that they did when leaving Orlando in September.
"I think the biggest thing is just focusing on what we do," Mitchell said. "This is the first game of a big stretch we've got coming up, and we've just got to focus on the little details. We have teams [scheduled] that have high-level players, deep playoff experience, and we just have to go out there and do what we do.
"It's not like we're saying this is a make-or-break stretch for us. … We're not playing to be ready by February … we're playing to be ready in [July]. That's when we have to have our best product, and these are good tests for us."