The league looks a little different since our last rundown of all 30 teams. Star guards Russell Westbrook and John Wall swapped teams. Jrue Holiday and Gordon Hayward changed uniforms. The Philadelphia 76ers got a new head coach and a new president of basketball operations.
What about the Los Angeles Lakers? L.A. appears even stronger after it locked in Anthony Davis to a five-year max deal, scored a surprise contract extension with LeBron James and signed reigning Sixth Man of the Year Montrezl Harrell this offseason.
Who can challenge the champs in 2020-21? Here's how every team stacks up.
Note: These rankings are based on which teams voters (a group of more than 40 reporters, insiders and editors) think belong higher heading into the 2020-21 season. Title odds were provided by Caesars Sportsbook by William Hill.
MORE: Biggest camp questions

| Post-Finals rankings

1. Los Angeles Lakers
2019-20 record: 52-19
2021 title odds: +320
Previous ranking: 1
The Lakers won the championship to cap LeBron James and Anthony Davis' first season together, and general manager Rob Pelinka has seemingly stacked the deck for the encore. L.A. was able to add the top two finishers for last season's Sixth Man of the Year Award — winner Montrezl Harrell in free agency and runner-up Dennis Schroder in a trade for Danny Green — to boost the bench and get younger in the process. And after Dwight Howard left for Philadelphia, Avery Bradley for Miami and Rajon Rondo for Atlanta, the Lakers traded JaVale McGee to make a spot for Marc Gasol and signed veteran guard Wesley Matthews. The Lakers are the favorites to win it all again. — Dave McMenamin
---
2. Milwaukee Bucks
2019-20 record: 56-17
2021 title odds: +500
Previous ranking: 3
For the past two seasons, the Bucks have finished with the best regular-season record with back-to-back MVP Giannis Antetokounmpo, but with no NBA Finals appearances to show for it. In an attempt to be at their best when it matters, the Bucks added toughness in guard Jrue Holiday plus depth support in D.J. Augustin, Torrey Craig, Bryn Forbes, Bobby Portis and Nik Stauskas. The Bucks' front office is trying to get the most out of Antetokounmpo's prime years by adding pieces to help get him over the hump. Their window of opportunity is wide-open, but Antetokounmpo's extension decision looms. — Eric Woodyard
---
3. Brooklyn Nets
2019-20 record: 35-37
2021 title odds: +600
Previous ranking: 10
It was a mostly uneventful offseason for the Nets, because their blockbuster 2019 offseason is what is still setting the table. They've spent more than a year waiting to get Kyrie Irving and Kevin Durant on the floor together, and while there's been simmering chatter about a third star, Brooklyn is set to enter the season with a two-headed monster at the front of the roster. The Nets hired Steve Nash in September to oversee it all, a bold move that only adds to the intrigue of what they will be this season. — Royce Young
---
2 Related
4. LA Clippers
2019-20 record: 49-23
2021 title odds: +450
Previous ranking: 2
After their stunning playoff collapse, the Clippers lost Montrezl Harrell and key reserve JaMychal Green to West competitors at the start of free agency, as Harrell joined the Lakers, and Green went to Denver. But the Clippers rebounded by reuniting former Raptors teammates Serge Ibaka and Kawhi Leonard. Ibaka might not replace Harrell's 18.6 points per game, but the Clippers' hope is that Ibaka will stretch the floor and better defend All-Star centers such as Nikola Jokic. Los Angeles added Luke Kennard and Nicolas Batum, but the Clips are banking on their biggest improvement to come with Tyronn Lue replacing Doc Rivers as coach and helping the team's chemistry and strategy while contending for a title. — Ohm Youngmisuk
---
5. Miami Heat
2019-20 record: 44-29
2021 title odds: +1500
Previous ranking: 9
Miami hopes it can keep the momentum of its impressive showing in the bubble going by running it back with mostly the same group. All-Star center Bam Adebayo signed a max extension, veteran guard Goran Dragic re-upped and Avery Bradley left the Lakers to join Jimmy Butler and the defending Eastern Conference champs. The Heat are hopeful that new draft pick Precious Achiuwa can make an impact. — Nick Friedell
---
6. Dallas Mavericks
2019-20 record: 43-32
2021 title odds: +2500
Previous ranking: 5
The Mavs had the most efficient offense in NBA history and a mediocre defense last season. It wasn't a difficult decision to make defensive upgrades the primary offseason goal. (Well, that and positioning the Mavs to be max-salary shoppers in next year's free-agency market.) Swapping Seth Curry for Josh Richardson sacrificed elite shooting for a tough, two-way guard who should benefit from playing off Luka Doncic offensively and will usually draw the most difficult defensive assignment on the perimeter. — Tim MacMahon
---
7. Denver Nuggets
2019-20 record: 46-27
2021 title odds: +2000
Previous ranking: 4
The Nuggets suffered a big free-agency loss when Jerami Grant left for a bigger role in Detroit. Key role players Mason Plumlee and Torrey Craig also are gone. But the Nuggets quickly moved on to JaMychal Green, who brings toughness and the ability to help Nikola Jokic defensively in the post and stretch the floor. Denver brought back Paul Millsap and signed passing point guard Facundo Campazzo and big man Isaiah Hartenstein, and it drafted RJ Hampton and Zeke Nnaji. Michael Porter Jr. has to make a leap forward into the starting lineup; Will Barton is ready to return from injury; and Bol Bol could be in line for some minutes for a contender looking to surpass its Western Conference finals appearance. — Youngmisuk
---

8. Boston Celtics
2019-20 record: 48-24
2021 title odds: +1600
Previous ranking: 7
Losing Gordon Hayward was a blow for Boston, as he was arguably its best playmaker and provided plenty of versatility on the wing. His departure, combined with Kemba Walker's lingering knee issues, will put lots of pressure on Jayson Tatum, Jaylen Brown and Marcus Smart to take steps forward in their development. Meanwhile, Tristan Thompson should serve as a nice partner at center next to Daniel Theis and will prevent big men from abusing Boston inside. The Celtics will need some of their many other young players (Grant Williams, Robert Williams III, Romeo Langford, Carsen Edwards, Aaron Nesmith and Payton Pritchard) to step up and give them minutes, too. — Tim Bontemps
---
9. Philadelphia 76ers
2019-20 record: 43-30
2021 title odds: +2500
Previous ranking: 8
It was yet another turbulent offseason in Philadelphia — but at least this time, it felt like the Sixers had a plan. New coach Doc Rivers and new president Daryl Morey give Philadelphia one of the best coach-management combos in the league as well as long-term stability. The moves to acquire Danny Green and Seth Curry, meanwhile, should balance out the roster and give the Sixers much-needed shooting. Now, Philadelphia needs Joel Embiid and Ben Simmons to play like superstars — and, specifically, to play like that when they are on the court together. If they can, this team could be the best in the East. — Bontemps
---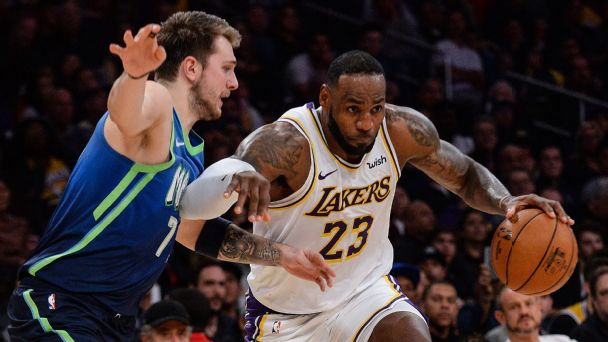 The new season is fast approaching. Keep it here for all the latest rankings, projections and storylines to watch ahead of 2020-21.
• NBA Power Rankings, training camp edition
•

What this drastic rest disparity means
• Games to watch | Must-see Christmas battles
• How will this NBA season actually work?
•

Win projections for all 30 teams
•

Every team's biggest camp question
10. Toronto Raptors
2019-20 record: 53-19
2021 title odds: +2000
Previous ranking: 11
Toronto, with an eye toward keeping cap space open for max free agents in 2020-21, kept Fred VanVleet but saw both Serge Ibaka and Marc Gasol depart in free agency. The Raptors did a nice job of recovering by grabbing Aron Baynes, but he is 34 years old and has been injury-prone. Plenty of championship DNA remains — Toronto still has reigning Coach of the Year Nick Nurse — so expect Toronto to remain firmly in the mix for home-court advantage in the East playoffs. — Bontemps
---
11. Portland Trail Blazers
2019-20 record: 35-39
2021 title odds: +3500
Previous ranking: 14
The Blazers cashed in some chips this offseason to get better, adding Robert Covington (in exchange for a future pick), inking Derrick Jones Jr. and Enes Kanter, and re-signing Carmelo Anthony. The Blazers added depth to their previously thinned-out rotation and provided the kind of defensive wing length and physical skills that were the formula to their Western Conference finals run two seasons ago. — Young
---
12. Utah Jazz
2019-20 record: 44-28
2021 title odds: +4000
Previous ranking: 13
The Jazz used the midlevel exception to bring back old friend Derrick Favors, whom Utah had to let go the previous offseason to make room to sign Bojan Bogdanovic to a $73 million deal. Favors returned to Salt Lake City with the understanding he probably won't slide back into the starting role at power forward, save for any occasional, matchup-based exceptions. The Jazz recruited Favors to back up Rudy Gobert. The reason: Utah had a team-best plus-6.2 net rating with Gobert on the floor and team-worst minus-3.8 when he rested last season. — MacMahon
---
13. Golden State Warriors
2019-20 record: 15-50
2021 title odds: +6000
Previous ranking: 6
No team went through more of a dramatic makeover over the past month than Steve Kerr's group. The Warriors were hoping to compete for a championship this season, but that optimism took a serious hit when Klay Thompson tore his Achilles tendon the same night the organization drafted James Wiseman No. 2 overall. With a healthy Stephen Curry leading the way and Draymond Green setting the defensive tone, the Warriors still think they can have a great season. New addition Kelly Oubre Jr. should pick up some of the slack created by Thompson's absence. — Friedell
---
14. Phoenix Suns
2019-20 record: 34-39
2021 title odds: +3500
Previous ranking: 19
After going 8-0 in the bubble but still missing out on the play-in game, the Suns didn't sit idly by this offseason. Phoenix went out and made one of the first major splashes when it dealt for Chris Paul, fresh off an All-NBA second-team selection, to be the new backcourt mate for Devin Booker. In speaking to reporters last week, Booker and Suns center Deandre Ayton expressed their excitement for being able to learn from the NBA's resident "Point God." — Andrew Lopez
---
15. Houston Rockets
2019-20 record: 44-28
2021 title odds: +4000
Previous ranking: 12
Has the smoke cleared in Houston yet? Even by the Rockets' turbulent standards, this was an offseason of radical change. Gone are coach Mike D'Antoni, general manager Daryl Morey, short-term co-star Russell Westbrook, shorter-term forward Robert Covington and Houston's commitment to a historically small lineup. The replacements: first-time head coach Stephen Silas; promoted general manager Rafael Stone; John Wall coming off a two-year injury layoff; and Christian Wood, a skilled 25-year-old center preparing for his first full season as an NBA starter. And of course, perennial MVP candidate James Harden has let it be known he would rather be in Brooklyn, a wish the Rockets are in no rush to grant. — MacMahon
---
2020-21 fantasy basketball arrives just in time for the holidays! Create or join an ESPN Fantasy Basketball league today! Sign up for free!
16. New Orleans Pelicans
2019-20 record: 30-42
2021 title odds: +5000
Previous ranking: 17
Instead of bringing in a stretch big to play alongside Zion Williamson, the Pelicans instead opted for more strength in center Steven Adams. The Pelicans rolled out an effective lineup last season with Williamson next to Derrick Favors, a non-shooting big, and found success. New Orleans' starting lineup of Williamson, Favors, Brandon Ingram, Lonzo Ball and Jrue Holiday had a plus-18.1 net efficiency rating, fourth best in the league among five-man lineups to play at least 150 minutes. With Adams replacing Favors and Eric Bledsoe stepping in for Holiday, New Orleans hopes to find similar success in 2020-21. — Lopez
---

17. Indiana Pacers
2019-20 record: 45-28
2021 title odds: +12500
Previous ranking: 16
Having a solid regular season then falling in the opening round of the playoffs isn't enough for Indiana, hence the firing of coach Nate McMillan to bring in former Raptors assistant Nate Bjorkgren in the lead role. Injuries also hurt Indiana last season, especially to key pieces such as Victor Oladipo and Domantas Sabonis. Entering camp, the Pacers are now healthy, and Malcolm Brogdon looks to adjust to a new role of becoming more of a leader. — Woodyard
---
18. Memphis Grizzlies
2019-20 record: 34-39
2021 title odds: +10000
Previous ranking: 18
The Grizzlies made the decision before last season's trade deadline to pass on the free-agency market, chewing up their cap space by taking on two large salaries as tax in the Justise Winslow trade and signing Dillon Brooks to a three-year, $35 million extension. Memphis' biggest offseason moves were re-signing 22-year-old reserve guard De'Anthony Melton to a four-year, $35 million deal and trading into the bottom of the first round to take wing Desmond Bane. The Grizzlies are committed to allowing their competitive young core, led by Ja Morant and Jaren Jackson Jr., to grow up together. — MacMahon
---
19. Washington Wizards
2019-20 record: 25-47
2021 title odds: +10000
Previous ranking: 21
The Wizards shook up the franchise on the eve of camp by trading John Wall for Russell Westbrook. While the two aggressive, ball-dominant point guards have plenty of similarities, Westbrook's arrival allows the Wizards to hit their stride quicker than with Wall, who has not played in two years. Westbrook, though, will have to adapt to franchise player Bradley Beal while also helping Washington develop Rui Hachimura, No. 9 overall pick Deni Avdija and second-round pick Cassius Winston. The Wizards kept their biggest free agent, Davis Bertans, while adding vet Robin Lopez for interior defense. — Youngmisuk
---
20. Atlanta Hawks
2019-20 record: 20-47
2021 title odds: +12500
Previous ranking: 24
The push for the playoffs in Atlanta is underway. The Hawks brought in Bogdan Bogdanovic, Rajon Rondo, Danilo Gallinari, Tony Snell and Solomon Hill, and they drafted Onyeka Okongwu and Skylar Mays. And by the way, the team still hasn't seen what it has in center Clint Capela, who was brought in on a trade last season but never played a game for the Hawks. Add all that to Trae Young's production — the 21-year-old All-Star starter was fourth in the league in scoring (29.6) and second in assists (9.3) last season — and there's reason to believe Atlanta could make it back to the playoffs for the first time in four seasons. — Lopez
---
21. San Antonio Spurs
2019-20 record: 32-39
2021 title odds: +20000
Previous ranking: 22
It was a quiet offseason in San Antonio: Reserve guard Marco Belinelli headed back to play in his native Italy, guard Bryn Forbes signed with Milwaukee and the franchise drafted guards Devin Vassell and Tre Jones. Outside of those moves, the roster mostly looks like it did a year ago. San Antonio had success in the bubble going small (DeMar DeRozan was the starting power forward) and young (Dejounte Murray, Derrick White, Jakob Poeltl, Lonnie Walker IV and Keldon Johnson are all in Year 5 or less), and it now gets to add LaMarcus Aldridge back to that mix. — Lopez
---
22. Orlando Magic
2019-20 record: 33-40
2021 title odds: +20000
Previous ranking: 20
The Magic didn't make any splashy moves in free agency, but they're banking on draft picks Cole Anthony and Chuma Okeke to provide a boost for an organization still emotionally reeling from Jonathan Isaac's season-ending knee injury in the bubble. (Okeke didn't play last year after rehabbing his own ACL injury.) The Magic are hoping that former No. 1 overall pick Markelle Fultz will continue to improve in Steve Clifford's system. — Friedell
---
23. Minnesota Timberwolves
2019-20 record: 19-45
2021 title odds: +20000
Previous ranking: 25
A good way to start the offseason is by picking No. 1 in the draft, and while it wasn't a blockbuster selection, adding Anthony Edwards fills a straightforward need for the Wolves. They are uniquely positioned with young stars in place and are simultaneously building for a future run while having a chance to be good in the present. Adding a few key veterans should stabilize them, too — welcome back, Ricky Rubio! — but the biggest part for the Wolves is finally getting a full look at the Karl-Anthony Towns/D'Angelo Russell pairing. — Young
---
24. Chicago Bulls
2019-20 record: 22-43
2021 title odds: +15000
Previous ranking: 26
Returning to relevancy is the motivation behind the offseason moves made in Chicago. For starters, the Bulls have completely reshaped their front office, with Arturas Karnisovas as executive vice president of basketball operations and Marc Eversley as general manager. The Bulls also hired Billy Donovan as coach. There is a commitment to restore the basketball culture in Chicago, led by solid pieces in Zach LaVine, Lauri Markkanen and Otto Porter Jr. — Woodyard
---
25. Charlotte Hornets
2019-20 record: 23-42
2021 title odds: +40000
Previous ranking: 27
Charlotte surprised many by inking Gordon Hayward to a four-year, $120 million deal, but the Hornets are banking on the 30-year-old returning to All-Star form and setting the tone for the young players on their roster. One of those players is No. 3 pick LaMelo Ball, who is confident he can thrive right away. Hornets owner Michael Jordan's young team believes a playoff berth is on the horizon if it keeps improving under coach James Borrego. — Friedell
---
26. Sacramento Kings
2019-20 record: 31-41
2021 title odds: +20000
Previous ranking: 23
It was a turbulent offseason in Sacramento. After a string of COVID-19 cases hitting the lineup and a right foot sprain ending Marvin Bagley III's season early, the Kings struggled in the bubble. The next shoe to drop for the franchise, after missing the postseason for the 14th year in a row, was clearing out the front office: Vlade Divac and Peja Stojakovic out; Monte McNair and Wes Wilcox in. The Kings' roster changes were less dramatic, with Bogdan Bogdanovic, Kent Bazemore and Harry Giles III out and Frank Kaminsky, Hassan Whiteside and Glenn Robinson III in — along with first-round pick Tyrese Haliburton. In the competitive Western Conference, they'll have an uphill climb to stop that playoff drought from reaching a decade and a half. — McMenamin
---

27. Detroit Pistons
2019-20 record: 20-46
2021 title odds: +30000
Previous ranking: 28
The Pistons and new general manager Troy Weaver aggressively attacked the offseason. Detroit completely reshaped its lineup behind veterans Blake Griffin and Derrick Rose, adding Jerami Grant, Josh Jackson, Jahlil Okafor, Mason Plumlee and Delon Wright along with draft picks Killian Hayes, Saben Lee, Isaiah Stewart and Saddiq Bey to embrace that toughness and Detroit grit. Now, it's time to see how the product actually performs. — Woodyard
---
28. New York Knicks
2019-20 record: 21-45
2021 title odds: +30000
Previous ranking: 30
The Knicks have, once again, overhauled their team, hiring Leon Rose to run the front office and Tom Thibodeau to be the coach. In addition, they landed New York native Obi Toppin with the No. 8 pick in the draft, adding to a young core of RJ Barrett and Mitchell Robinson. But with the Knicks still having nowhere near enough talent to compete, the question is going to be how can Thibodeau — the ultimate win-now coach — handle such a young, inexperienced roster? It will be fascinating to see how this plays out. — Bontemps
---
29. Cleveland Cavaliers
2019-20 record: 19-46
2021 title odds: +30000
Previous ranking: 29
Cleveland used the No. 5 pick on Isaac Okoro, adding the physically skilled wing to a backcourt that features recent lottery picks Darius Garland and Collin Sexton. J.B. Bickerstaff, elevated to head coach after the dismissal of John Beilein in February, will be tasked with meshing his young talent with frontcourt veterans Kevin Love, Andre Drummond and JaVale McGee, who came over in a trade from the Lakers. The Cavs' chance of success this season will hinge on how those disparate pieces fit together. — McMenamin
---
30. Oklahoma City Thunder
2019-20 record: 44-28
2021 title odds: +40000
Previous ranking: 15
The Thunder's rebuild plan came about abruptly, with the fifth seed in the West deconstructed over a fast and furious week of wheeling and dealing: Dennis Schroder was shipped to the Lakers, Chris Paul was moved to Phoenix and Steven Adams was sent to New Orleans. It was always in the cards for the Thunder to begin the process of a rebuild, but it was about timing. As the rest of the West positions to compete for the playoffs this season, the Thunder are zagging. — Young