We're less than a week away from the start of the NBA playoffs. The NBA's new Play-In Tournament concept has led to a wild race for the eight-seed in the Western Conference. And despite receiving criticism for sending 22 teams to the Orlando Bubble, only the Wizards, Kings and Pelicans have been eliminated thus far. Of the 20 teams jockeying for playoff positions, here is one fatal flaw that could doom each team.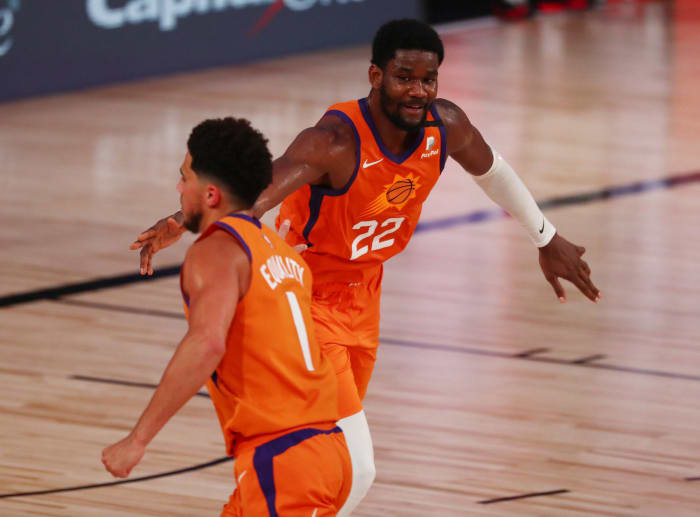 © Kim Klement-USA TODAY Sports
The Suns have been the hottest team in the Orlando Bubble. Devin Booker looks like an All-NBA guard. Deandre Ayton is starting to look like an All-Star big man. And Mikal Bridges is starting to look like a future first-team All-Defensive player. If the Suns make the playoffs, it'll be a major accomplishment for them and some great momentum moving forward. However, there's no way these Suns advance past the first round – they're far too inexperienced and are a below-average shooting team.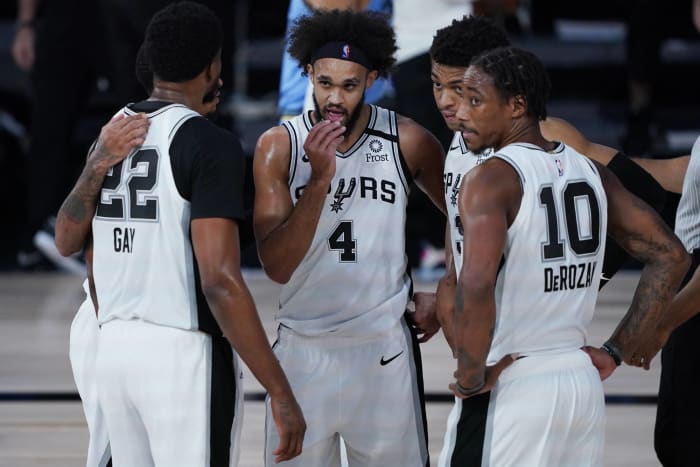 © Pool Photo-USA TODAY Sports
Before I take shots at the Spurs for their continued refusal to adapt to modern basketball by embracing the three-point shot and offensive spacing (something their franchise title team ironically helped introduce to the sport in the 2014 Finals), I must applaud them for finally playing their young guards (Dejounte Murray, Derrick White, Lonnie Walker IV) together during the bubble. That being said, the team is 28th in the NBA in three-point attempts and 26th in three-point makes despite being fourth in three-point percentage (37.4 percent)!! You have to embrace the math when you're an underdog, and the Spurs refusal to do so will ultimately spell their doom.
© Pool Photo-USA TODAY Sports
This has been a long-standing problem for the Blazers – they simply aren't built to stop elite small forwards like LeBron James or Kawhi Leonard. Yes, Gary Trent Jr. has been awesome in the bubble, but at 6-foot-5 and 209 pounds, he's more of a two-guard than a forward. And while Carmelo Anthony is strong enough to bang with James and Leonard in the post, but both of them would make him look like he's playing in cement shoes on the perimeter. If Portland were to make the playoffs and matchup with the Lakers or eventually the Clippers, they would simply have to outscore them, meaning Damian Lillard and CJ McCollum would need to combine for about 60 ppg. over the course of a seven-game series. It could happen, but it's fairly unlikely.
© Pool Photo-USA TODAY Sports
The poor Grizzlies are getting shafted by the bubble experience. Not only have they suffered two key injuries to Jaren Jackson Jr. and Justise Winslow, but they're playing opponents who are bringing playoff intensity to every game. If this were a regular finish to the regular season, some opponents would be unhealthy, some opponents would be resting players as many do towards the end of the season, and most opponents wouldn't be bringing the same type of intensity to every game like they are inside the bubble. Playoff intensity makes scoring in the final minutes of games more difficult – you have to execute perfectly on set plays and/or be able to score in isolation late in the shot clock. Memphis presently has neither of those – which is completely normal for a young, inexperienced team like the Grizzlies – and it's shown in their close losses to Portland, San Antonio and New Orleans in the bubble.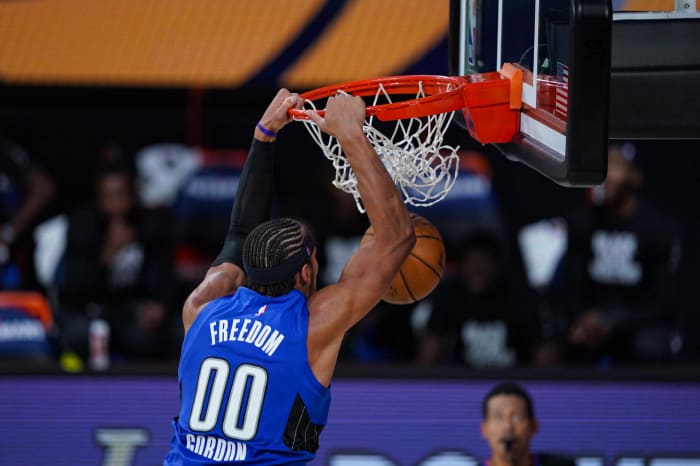 © Pool Photo-USA TODAY Sports
Right as he was starting to break-out, Johnathan Isaac sadly became the first bubble injury tragedy as he tore his ACL and meniscus. A few games later, Aaron Gordon pulled his hamstring in a game against Toronto. Without those two, they have zero chance of slowing down the likes of Giannis Antetokounmpo and Khris Middleton or Pascal Siakam (if they're able to surpass the Nets for the seven-seed). It'll be a quick sweep or gentlemen's sweep for Orlando, and they'll take a short bus trip home and prepare to be mediocre again in 2020-21.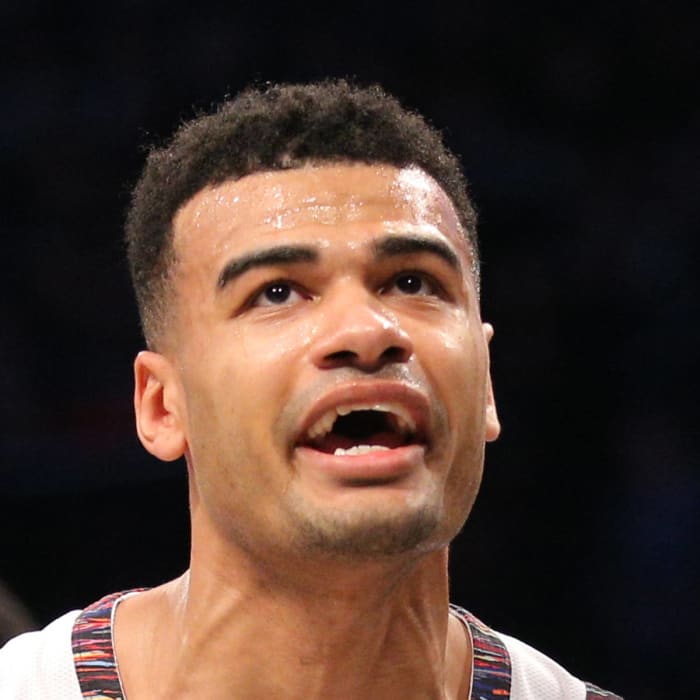 © Brad Penner-USA TODAY Sports
With Kevin Durant, Kyrie Irving, Spencer Dinwiddie and DeAndre Jordan all missing the Orlando Bubble, the Nets don't have a chance to do anything in the playoffs. They know this. Their opponents know this. They're just helping the NBA complete the bubble, earn some revenue, and then be the sacrificial lamb for either the Raptors or Bucks in the first round. On the bright side, at least Timothé Luwawu-Cabarrot is showing the ability to be a future three-and-D complement for Durant and Kyrie next season.
© Pool Photo-USA TODAY Sports
It's a damn shame that Mavericks' big man Dwight Powell ruptured his Achilles earlier this season as he was Luka Doncic's best pick-and-roll partner as well as one of the team's better defenders. Adding a healthy Powell to Dallas' bubble roster would have given them a legitimate chance to upset the Clippers in the first round and make a deep playoff run, especially with how awesome Doncic (averaging 33.4 ppg., 11.6 rpg., 11.6 apg. in the bubble) and Kristaps Porzingis (29.4 ppg., 10.2 rpg. in the bubble) have played since the restart. Dallas will still have a puncher's chance against LA, but the Clippers seem to be the Mavs' kryptonite this season, beating them in all three matchups by a combined 33 points.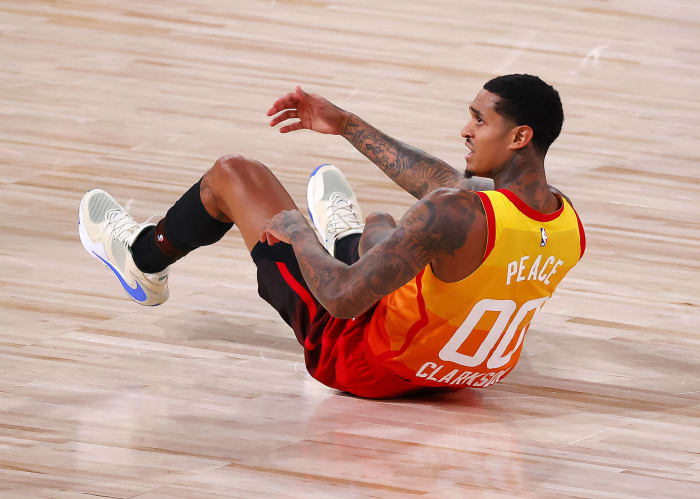 © Pool Photo-USA TODAY Sports
The loss of Bojan Bogdanović for the season hurt the Jazz's chances to advance in the postseason in a multitude of ways. For one, it removed the team's second-leading scorer and most efficient shooter (20.2 ppg. on 45-41-90 shooting splits) from their offensive attack. Second, it took away a competent wing defender from their rotation – something that is paramount to success in the playoffs. And third, it decimated the team's bench attack. Instead of having two above-average bench players (Joe Ingles and Jordan Clarkson), the team only has Clarkson as Ingles has moved to the starting lineup. Great playoff teams usually have a strong eight-man rotation, but some can get by with a strong seven-man rotation (which is what the Jazz had prior to Bogdanović's injury). Now, they have a dependable six-man rotation…and that just isn't going to work against the stiff competition in the Western Conference.
9 of 19
OKC Thunder: Matching up with elite wings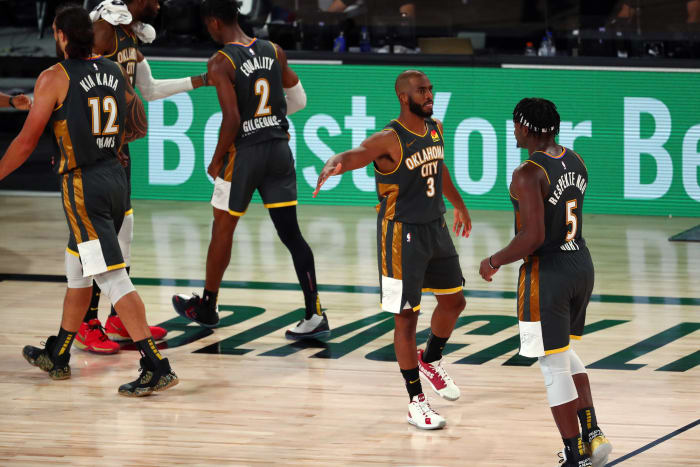 © Kim Klement-USA TODAY Sports
The Thunders' closing lineup – Chris Paul, Shai Gilgeous-Alexander, Dennis Schröder, Danilo Gallinari and Steven Adams – has an absurd plus-29.9 net rating per 100 possessions in 177 minutes this season. It's the NBA's best clutch lineup as well. Notice something problematic about that lineup? It has no one that can legitimately slow down a LeBron James, an Anthony Davis, a Kawhi Leonard or a Paul George. Those are four of the best players and closers in the league – they'll destroy the Thunder, and they'll go at them on every single play. So, unless the Lakers or Clippers are upset in the first round, the Thunder's impressive season will almost certainly end before the conference finals.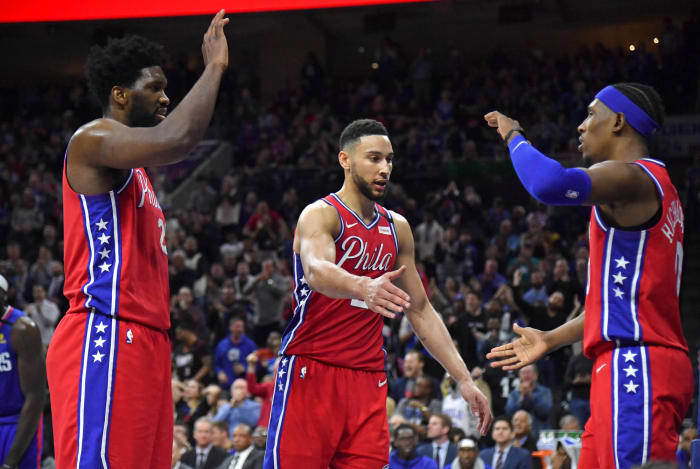 © Eric Hartline-USA TODAY Sports
Much like last year's Kyrie Irving-"led" Celtics, everyone is kind of waiting for the 76ers to snap out of their season-long funk as they enter the playoffs. Bad news Philly fans, I don't think it's happening this year. Yes, there have been teams that have gotten hot and run the table in the postseason (2011 Mavericks, 1995 Rockets, to name a few), but those teams had good momentum heading into the playoffs. The Sixers do not. Ben Simmons looks like he's out for the rest of the season. Al Horford has been a poor fit in Philly. And neither Tobias Harris nor Josh Richardson has stepped up as the perimeter star Philly will need if they even have a chance to advance deep into the playoffs.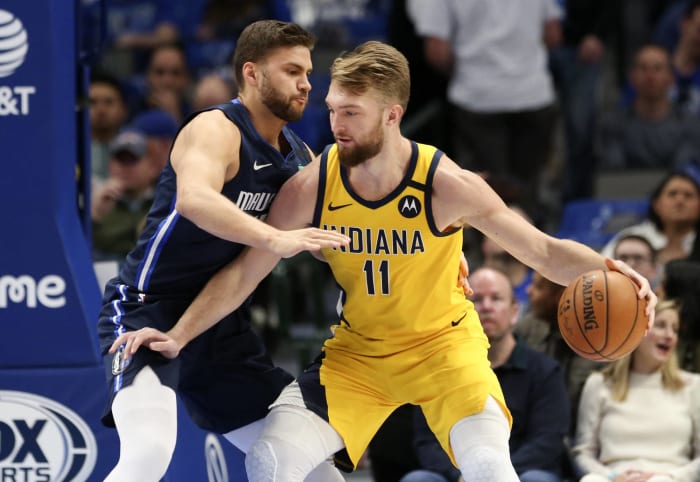 © Kevin Jairaj-USA TODAY Sports
Caveat: If Bubble TJ Warren continues to play like prime-Michael Jordan (averaged 34.8 ppg., 6.6 rpg. on 61-56-89 shooting through his first five bubble games), then the Pacers might win the whole damn thing. Assuming Warren comes back down to earth a bit in the playoffs, then Indiana will really miss their All-Star big man Domantas Sabonis (18.5 ppg., 12.4 rpg., 5.0 apg.), who left the bubble with a serious foot injury and is unlikely to return. Sabonis not only gave the Pacers consistent and efficient offense (54 percent FG), but he initiated offense with his passing, and, more importantly, his screening as he led the league with 7.0 screen assists per game. Missing that kind of reliability on offense may doom Indiana against some of the better Eastern Conference playoff opponents like Milwaukee, Toronto and Boston.
© Chuck Cook-USA TODAY Sports
The Heat are an awesome, overachieving young roster that plays its tail off every game. They're far from a cute story, and will challenge any opponent they face – including the Bucks – in a playoff series. However, as we've seen countless times in the past, it's difficult to win a series deep in the postseason without multiple go-to scorers. Jimmy Butler fills one of those voids, but scanning the rest of Miami's roster, it's unclear which player will step up and be that reliable secondary scorer. Goran Dragic, Bam Adebayo, Kendrick Nunn, Duncan Robinson and Tyler Herro all averaged a little over 13 ppg. this season, but none of them are guys who can get their own shot off in isolation against a dialed-in defense at this point in their careers. Therefore, the Heat will need Butler (20.2 ppg.) to play out of his mind in the clutch in order to advance past the second round where they'll almost assuredly play the Bucks or the Raptors.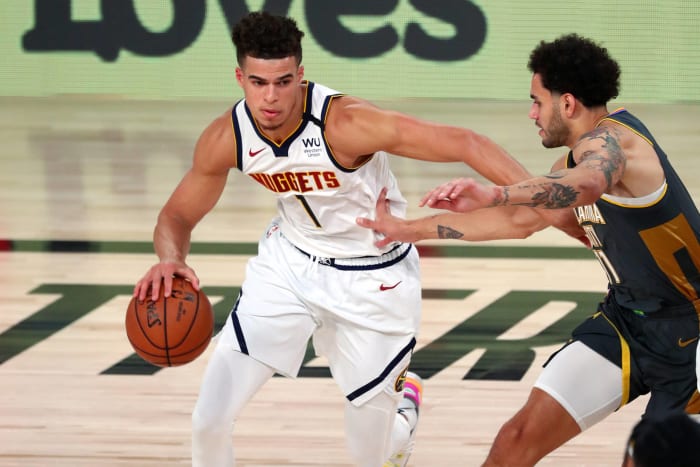 © Kim Klement-USA TODAY Sports
Yes, Michael Porter Jr. has been incredible in the bubble, averaging 23.8 ppg. and 9.2 rpg. He's established himself as a perfect superstar teammate and complement for Nikola Jokic. Porter's emergence also means that semi-star, Jamal Murray, doesn't need to been awesome in order for the Nuggets to have a chance to win against the best teams in the league. This will make Denver a formidable foe in the playoffs, but they're still probably a year away from being a series Finals contender given how good the Bucks, Lakers and Clippers have looked all season. You can have all the talent in the world, but you need playoff experience to take home a championship.
14 of 19
Houston Rockets: Small ball can work, but super small ball probably cannot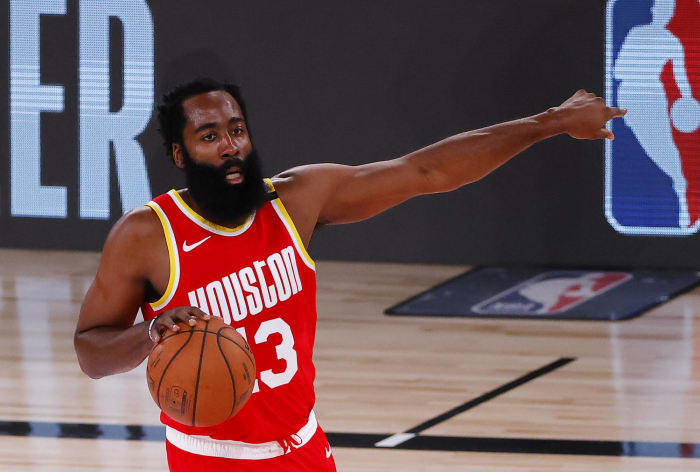 © Pool Photo-USA TODAY Sports
As the pre-Kevin Durant Warriors proved, small ball teams can win the championship (take that, old school NBA players!! ). However, the best small ball teams of the past decade have always had at least one big man who could do the dirty work, grab defensive rebounds to end possessions, set hard screens and protect the paint. This current iteration of the Rockets doesn't even have that option anymore, having traded Clint Capela. Now, much like the Celtics, this Rockets team can beat any team on any given night both with talent and with superior analytical strategy, but can they make counter-adjustments in a playoff series against an opponent that has more than a day or two to scout them? Can their small forwards like PJ Tucker and Robert Covington withstand four playoff series' worth of banging with seven-foot big men? Can James Harden and Russell Westbrook maintain their efficiency amid extremely high usages? The general consensus is "no", but kudos to Houston for giving super small ball a shot.
© Troy Wayrynen-USA TODAY Sports
If the playoffs were a single-elimination, March Madness-style tournament, the Celtics would probably be my pick to win the championship. Their top-seven guys – Jayson Tatum, Jaylen Brown, Kemba Walker, Gordon Hayward, Daniel Theis, Marcus Smart and Enes Kanter – might be the most talented top-seven in the NBA. They can play any style and morph to matchup with any opponent. Unfortunately, the Celtics don't have any depth beyond those top-seven, and most championship teams need eight or nine reliable players to win four series in the postseason. Right now, they're filling out their rotation with journeyman Brad Wanamaker, scrub Semi Ojeleye and rookie Grant Williams – none of whom are going to make a positive impact on a series late in the playoffs. Thus, I expect the Celtics to win every series until they suffer an injury to their top-seven players or need a huge bench contribution to win a pivotal game.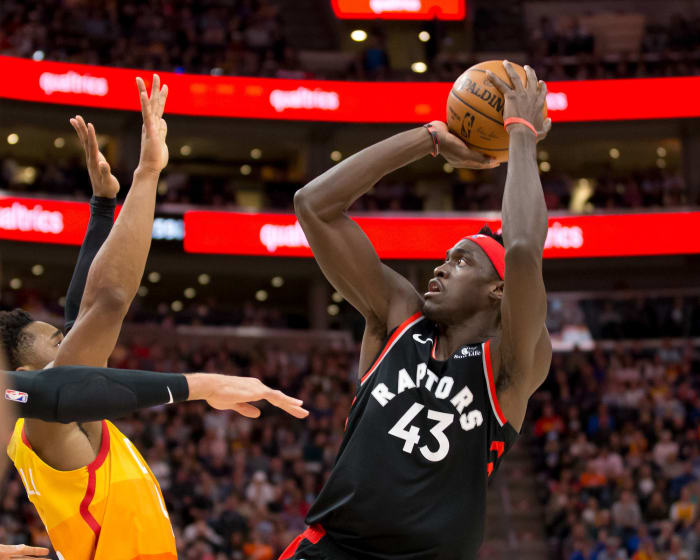 © Russell Isabella-USA TODAY Sports
Despite losing the Finals MVP, the Raptors were one of the best regular season teams in the NBA. And arguably the best team in the bubble thus far. Their team chemistry and swagger are second to none heading into the playoffs. Yet, as most veteran NBA fans know, the playoffs are a different beast. Opponents have an entire series to scout you and make adjustments. Rotations get tighter and opponents' best lineups get played at a higher frequency. This all usually means that games will be close in the final possessions, and the teams with the best closers often win the tight games. Who is that dude for the Raptors? Kyle Lowry? Pascal Siakam? Fred VanVleet? And what do they do in the Conference Finals if Siakam can't slow down Giannis? 
17 of 19
LA Lakers: Three-point shooting
© Gary A. Vasquez-USA TODAY Sports
For those surprised that the Lakers' fatal flaw isn't a lack of guard depth (behind Point Guard LeBron), just remember – LeBron James will likely play 40-plus mpg. (career average is 42 mpg.) in the playoffs and the ball will be in his hands every possession. Therefore, the team's below average three-point shooting will be of greater concern come playoff time. Not only do the Lakers not make threes at a high clip (19th-best at 35.2 percent), they don't attempt them all that frequently (22nd-best at 31.6 attempts/game). They'll need the likes of Danny Green (36.9 percent), Kyle Kuzma (31.2 percent), Markieff Morris (23.1 percent) and Dion Waiters (21.4 percent) to shoot better than they did all regular season or else they'll be playing with fire every round.
18 of 19
LA Clippers: Who is going to stop Anthony Davis?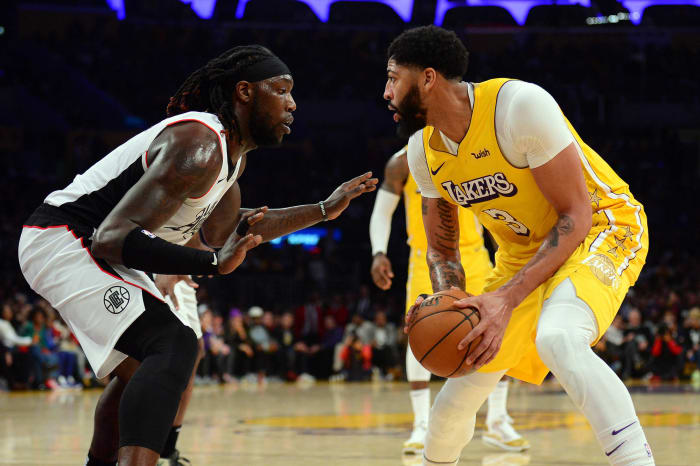 © Gary A. Vasquez-USA TODAY Sports
Obviously, the team's lack of continuity could potentially hurt the Clippers. However, Kawhi Leonard is so great and the roster is so loaded with talent that it hasn't seemed to effected the Clippers whenever their core players have played together. Thus, I don't see it hurting them in the playoffs. At least not as much as Anthony Davis will. In four games this season, Davis averaged 28.3 ppg. and 11.8 free throw attempts in only 36.6 mpg. in his four games agains the Clippers this season. Exempt those minutes to be up in the 42-43 mpg. range, which means the Clips' bigs will constantly be in foul trouble and may force Kawhi to have to expend additional energy guarding AD.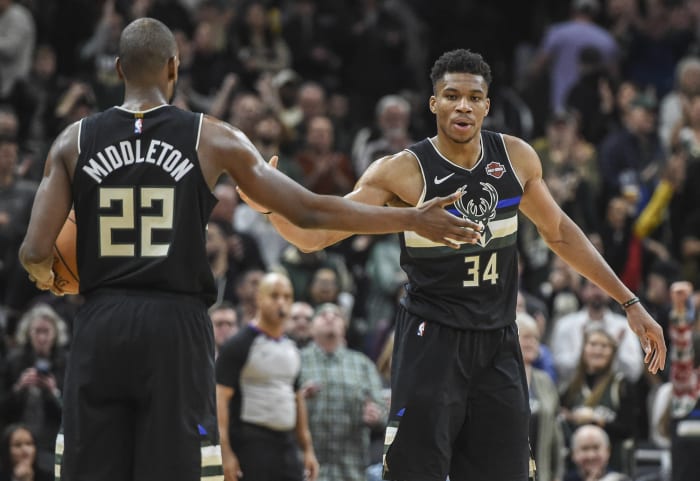 © Benny Sieu-USA TODAY Sports
The Bucks were one of the greatest regular season teams ever this season. They had a double-digit point differential (net of offensive rating and defensive rating), becoming only the 12th team in NBA history to accomplish such a feat. And they're led by the two-time reigning MVP and this year's Defensive Player of the Year in Giannis Antetokounmpo. The one thing they do that would make me a little nervous is they force opponents to shoot three-pointers. in fact, they gave up the most three-point attempts (39.2) and makes (13.9). However, they only give up a league-average 35.5 percent on those threes. Bucks fans better hope they don't catch a hot shooting team deeper in the playoffs.