Part 2: Preparing for launch
Carter shot 50 percent from the field, 40 percent from 3-point range, and he led Team USA in scoring at 14.8 points per game during an 8-0 run to the gold medal. The national team extended its winning streak to 25 games and improved its overall Olympic record to 109-2.
But two factors overshadowed those figures: Carter's flight over Weis and the Americans losing ground to vastly improved international competition. Lithuania nearly upset Team USA twice in a pair of games decided by just 11 points.
While frustratingly inconsistent stretches defined their play, the one constant for the Americans was the breathtaking moments behind closed doors during practice. It was only a matter of time before Carter pulled off something absolutely ridiculous under the bright lights.
Steve Smith: You were seeing unbelievable things in practice … the way he was attacking our bigs with that explosion. I remember looking at J-Kidd and GP going, "This is just unreal." It was the dunks, but it was more than the dunks. I'm 6-foot-8 … at one point, I was checking him, and he shoots a jump shot. And I'm thinking: "Look how high he elevated on a pull-up jump shot. … This is not normal. This is just not normal."
Alonzo Mourning: It's literally the most freakish athleticism we've ever seen during our time. The stuff [Vince] was able to do, and the hang time around the rim, the creativity he would go through in the air to finish at the rim; I mean, it was amazing.
Rudy Tomjanovich, 2000 USA Olympic team head coach: In our practices, he was catching lobs that were misthrown, away from the basket. And he's jumping this way, gathering them and somehow turning and [dunking]. Guys were like, "Did you see that?" Jason Kidd would say, "Man, I can just throw it anywhere up there, and he's gonna get it."
Mo Peterson, close friend and Raptors guard 2000-07: It was just like that in Toronto, too. After that [dunk] in the Olympics, every time I was on his team in practice that [next] season, I would just try to throw lobs as high as I could — just to see if he could catch it. He'd be running back downcourt mad and yelling, "Man, what the hell kind of pass was that?" And I'm like: "Man, I knew you could catch that, dude. You're Vince Carter."
Tubby Smith: I remember standing on the sidelines listening to Gary and Jason Kidd and Tim Hardaway say, "I bet he can't catch this lob." It's funny, because those guys would actually be betting.
Tim Hardaway: We purposely tried to throw it behind him, see how far he'd reach to catch it, how high he would go. We wanted to see if he could go to the top of the square and catch it. We didn't know he was going to get it. We didn't know he would [then] go jump over somebody. We never bet on that one.
---
Part 3: "It was one, two … and that's it"
Against France, Carter was nearly perfect; he made 6 of 7 shots and scored 13 points in 13 minutes. Among countless YouTube highlight clips is one that counts at least 25 dunks among Carter's 41 made baskets in his eight-game Olympic run.
Of course, one slam rose above them all.
"Two things I think about when it comes up," Carter said. "I'd like to know how many times it's been replayed in the 15 years since on YouTube or anywhere else. And then I never, to this day, got to hear my teammates' version of what they saw. It's been 15 years, and I never heard anything, never looked it up to see what they said about what they saw. It would be cool to see what they remember."
The dunk sequence began when Payton drove and missed a contested layup with 16 minutes, 8 seconds, left and Team USA ahead by 15. Vin Baker missed the putback attempt as Garnett and Allen retreated in transition defense. France grabbed the loose ball near the free throw line. But Carter lunged on the left wing to steal France forward Yann Bonato's errant behind-the-back outlet pass.
Carter then eyed the rim and sized up a slow-reacting Weis, France's last line of defense in the lane.
Frédéric Weis, France national team center 2000-07: I don't remember anything. I had my eyes closed [laughs]. I wouldn't move, for sure.
Vince Carter: I knew I was in position to jump the pass and get the steal. Once I got it, it was one, two … and that's it. There it was. So I get the steal. I remember taking the first dribble and the second dribble, just trying to gauge what [Weis] was going to do.
Tim Hardaway: I was toward our bench. The only thing I saw was him catching the ball, and he never even hesitated. He just went up, didn't care who was in front of him.
Doug Collins, former NBA player and coach and NBC commentator for the 2000 Olympics: A lot of it was [predicated] by where Frédéric Weis was on the floor. I mean, had he gotten further away from the basket or gone up — but once he stood still, he made himself a sitting target for Vince to have his way.
Mike Breen, Collins' broadcast partner and NBC play-by-play analyst: There was a lull in the game, and it was clearly decided. It was a matter of finishing out, and then off this turnover, he takes the ball — to see him explode like that to the rim, I'd never seen anything like it.
Steve Smith: I said: "Wow. This is going to be great." And I know Vince. I was thinking: "Let's see what Vince does. Is he going to go chest-to-chest? Is he going to try to go around him?" You looked and said, "Vince is going to attack him."
Shareef Abdur-Rahim, former NBA forward and 2000 USA Olympic team forward: You can see plays coming sometimes. In that instance, I don't even remember anticipating anything spectacular happening. He jumped so fast, so quick, so unexpected.
Vince Carter: [Weis] never stepped up to me for me to pull up. He was just kind of just waiting there. So in my mind, I figured, "If I get up in the air before you jump, you don't have a shot in hell to stop me." And he stood there. I just remember putting my hand on his shoulder and going up.
Tubby Smith: It was like the big fella said: "Oh s—, I need to move or something. I need to get out of here." But it was like he was stuck, like he was frozen. Vince took off and just kept going up, up and up.
Steve Smith: Frédéric decided not to jump. … He started to measure where Vince took off from, just outside the paint. And in a way, Weis helped Vince because he looked like he was going to challenge Vince. And Vince put everything he had into that jump.
Vince Carter: And so after that, I'm only concentrating on the rim. I'm not even focused on [Weis]. I'm not thinking about what's going on below me on the ground. I just figured he'd rolled out of the way or fell down trying to take the charge, because I didn't feel him anymore. And at that time, I'm thinking I jumped too far out and I'm going to [come up] short, like in that Sprite commercial.
Tubby Smith: It seemed like he was thinking: "Oh man, what have I done? I'm too far away. How can I correct this?" And his correction was to just elevate above it and over [Weis]. He just split his legs and went over him. I don't know how he got that extra boost.
Steve Smith: I think time stopped for a second. Weis may have bent his head six inches to the side, but [Vince] clearly cleared this guy who was 7-foot-2. I had to gather myself, like: "Whoa! What just happened?"
Vince Carter: I took off outside the box, and I'm looking at the rim like, "Uh-oh." And if you go back and look at it, you'll see that I lean my upper body forward to reach as far as I can [to the rim] because I'm thinking I'm not going to make it. And when I got there, that's where my excitement came from.
Nobody realized that because they didn't know what was going on, what I was thinking. My challenge after I jumped was to just get as close to the rim as I could. I never thought about the guy under me.
Frédéric Weis: I had no idea about it. The only thing I remember was [teammate] Mou [Moustapha] Sonko was screaming from the bench like it was me dunking. He was raising his arms like it was us scoring. But it wasn't me doing the dunk. I was on the receiving end.
---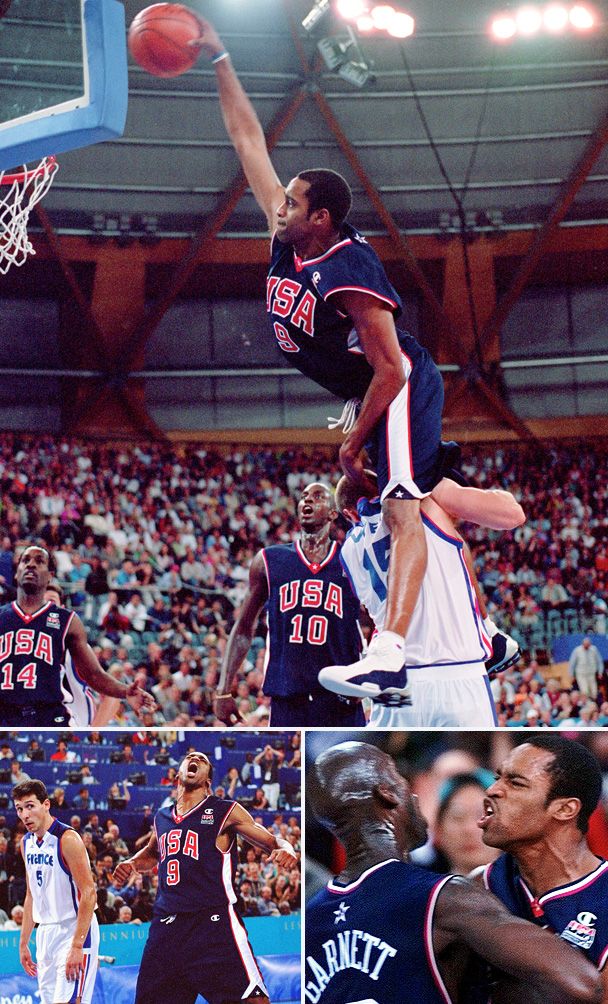 Part 4: 'What did I just see?'
Carter landed, shook the voltage out of his legs, flexed his arms and roared as a wide-eyed Garnett maniacally rushed over to celebrate. The dunk gave Team USA a 71-54 lead. A timeout was called shortly after, sending a dazed Weis to the bench. He was replaced on the court when play resumed.
"I knew he could jump, but I didn't know he could jump over me," Weis told reporters after the game. "Everybody will know my face now or my [jersey] number, at least. It's going to be on a poster, for sure."
Rudy Tomjanovich: I was standing right there in the coach's box when [Vince] took off and exploded over the guy. And I was sort of in awe for a second. I turned, and Jason Kidd was right next to me, and he was yelling: 'We were here! We were here! We saw this!" I was still like, "That didn't really happen."
Jason Kidd, current Milwaukee Bucks coach, who was sitting at the scorers' table: That dunk seemed like it was too easy. It wasn't like he loaded up and that he had to gather his steps, do this and that. It was all in the flow of the game. When he jumped, it was like: "OK, he's up there. … Oh, no! He jumped over him."
Tim Hardaway: I probably jumped higher than [Vince] did. I jumped up. Everybody jumped up. It was almost like being at the Rucker Park games. People just almost stormed the court. We had to control our emotions to keep from going on the court.
Shareef Abdur-Rahim: You probably couldn't print what I said. The bench went nuts. KG grabbed [Vince's] head and was doing KG things, where he pushes his head. It really set everybody off.
Vince Carter: When I came down, I almost punched KG in the face because I didn't even see him there.
Reaction, starting from beneath the basket and spreading to the opposite end of the globe, ran the gamut. Depending on the vantage point, acceptance came in methodical stages. There was shock, then stunned silence, then disbelief followed by denial, bewilderment and, ultimately, hysteria. Many agree on one thing: They needed a replay before they could truly process what they had witnessed.
Vince Carter, from the middle of the action: I'm on another planet at that moment. And I'm not even sure who everyone else was or where they were. When I look back on it, I always laugh to myself because I was relieved I didn't embarrass myself.
Ray Allen, from near midcourt after he retreated back on defense: It was like I was dreaming. To me, Weis being 7 feet and Vince jumping completely over him was impossible. But he did it. And when he did it, it was like: "I can't believe my eyes. What did I just see? Did he just do what I think he just did?"
I almost forgot that I was there on the floor. I became a fan watching it from the highlights. I'm always like: "I'm right there! I was right behind that!"
Doug Collins: from courtside broadcast table: Vince, we've seen him do spectacular moves. That's the beauty of the dunk. It becomes part of your personality. I played with one of the all-time great dunkers, Julius Erving. I was spoiled through the years. I don't think I ever saw Michael Jordan jump over anybody's head during a game.
Mike Breen, from alongside Collins calling the play-by-play: I knew it was special when Doug Collins started screaming. He had seen basketball for decades and all of the great players. When he erupted, I knew that it was something we had never seen before.
Georges Eddy, longtime French TV broadcaster, from courtside: It was probably the live commentary that was heard the most in my 30 years on TV because we were incredibly surprised and excited. You never see that, except in a video game. People say [Weis] should have fouled Carter. But thank goodness he didn't, because we might have missed the greatest dunk ever.
Rudy Tomjanovich, from in front of the USA bench: When I saw the replay, it was amazing. I wasn't sure what the hell happened in real life.
Craig Miller, Team USA communications officer, from the stands: The crowd had this delayed response. People were trying to figure out what happened. "What did he just do? Oh my god!" To this day, the most epic dunk in the Olympics. I've been at the Olympics since 1988. I've never seen anything like it.
Shaun Powell, then with Newsday, now an NBA.com senior writer, from the arena's media section: Everyone looked at each other, stunned. You just had to see the replay. It was almost like you refused to believe what you thought you saw. You just froze. The only other feeling I can compare it to as a sports writer was at the [1997] Mike Tyson-Evander Holyfield fight, when Tyson bit off Holyfield's ear.
Andrew Bogut, Golden State center and Australian, then watching live at age 15 from Melbourne: It was a talking point at school. There was a photo where [Vince's] nether region was on [Weis'] head, so that was kind of cool. Everyone was talking about it.
LeBron James, four-time NBA MVP, then a prep sophomore who watched the replay from Ohio: All I remember was hearing people like, "Did you see Vince Carter jump over a guy in the Olympics?" I was like: "What do you mean he jumped over a guy? Like, was he laying down on the ground?"
When I saw it, I was like, "Oh my god!" That's the one play where you knew he was like, "Half Man, Half Amazing," for sure. You were like, "Oh yeah, that nickname is too fitting."
Antonio Davis, watching from Toronto: It was like watching my baby brother ask a girl to dance after I've been on him like: "Listen, dude, you're not going to get the girl by just standing over here. You've got to be ready to take that next step and face rejection or whatever it is." [Vince] finally understood [that] when he takes off, you either got to get out of his way or challenge it. And he's the best dunker I've ever seen.
Vince Carter, on the moment when reality set in: I didn't know what it looked like until after the game. It was on one of those personal camcorders. One of my teammates had one of their boys in the stands with one, and they brought it down into the locker room. They were like, "Look at what you did, man."
That's when I really saw it. I watched it seven times. I remember Steve Smith, Tim Hardaway and Gary Payton looking at me crazy. That's when it became real.
Frédéric Weis: It was great. But at the end of the day, it was just two points.
---
Part 5: Landing on a legacy
Fifteen years later, few remember how the game ended (the United States won 106-94). For some, everything was a blur. Looking back, Hardaway wasn't even certain of the opponent from that otherwise unforgettable moment.
"It was against the China team, right?" he asked before being corrected. "That was France? Oh, s—. I thought it was the China team. You know what? I really don't know how it played out after that. You're right. All I know is we won and that was one hell of a dunk — one of the best of all time."
Every so often, Carter and Weis are still asked by fans about it. Or about each other, although they don't believe they've been in the same city — certainly not the same arena — together since the USA defeated France 85-75 a week later in a rematch for the gold medal. Any shame Weis feels from the Carter dunk pales in comparison to the pride of dipping his head alongside his France teammates in 2000 to have a silver medal placed around his neck.
"We never spoke," Weis said. "But in the final, he tried to go over me [again] and I fouled him. He smiled back."
Yet they remain forever linked by the dunk.
For Carter, it's the most famous basketball play in a likely Hall of Fame career filled with jaw-dropping highlights. For Weis, it's the most infamous snapshot of a career cut short by debilitating back and knee injuries. Shortly after his son was born in 2002, Weis battled depression and alcoholism. In 2008, Weis survived a suicide attempt. In recent years, he has gotten back on his feet.
Georges Eddy: A lot of people said he was traumatized and that he never came back from that. That was bulls—. He came back against Luc Longley in the semifinals [win against Australia]. He had a good tournament, and he has a silver medal to show for it. Then he had all sorts of [personal] problems. Now, he's doing well. He's a businessman. People who say Fred Weis is a victim are missing the true story.
Frédéric Weis: I was unlucky with the NBA. I had back surgery after I went to [Knicks] summer league. It was killing me. And after that, my agent went to jail. Life got complicated. And if something doesn't feel right, you don't have to do it. It's life. I moved on to something else.
I'm OK. I live in Limoges, [France,] which is where I finished playing professional basketball. I'm with my wife and my son. I have a store, a bar. I like working there. I'm doing some TV, which I enjoy.
Craig Miller: I don't know from the Olympics if I remember 25 players on other teams, but I'll always remember [Weis'] name because of that dunk. It made him historic in that sense.
Jason Kidd: Someone has to be part of that incredible play. I didn't think it would be as bad; and it turned out to be because he was drafted by the Knicks. It made it even bigger. I think if he was drafted by anybody else, he would have come over and played in the NBA and had a decent career.
Many wonder how social media might have responded to the dunk. But the truest measure of the moment's power lies in how its story is passed down like folklore from one generation to the next.
Steve Smith: People are still talking about it, and rightfully so. I have a 16-year-old and a 13-year-old, and they asked me to recap it. "Dad, was it the greatest dunk ever?" They watched it, but they still ask, "Was he really 7-foot-2?" For me to be there — wow. I witnessed the greatest dunk ever, firsthand.
Shareef Abdur-Rahim: My son has seen it. Kids now find it. They bring it to me like, "Did you see this?" I said, "I was there."
Tubby Smith: When I bring recruits or players over [to] my house, I have the photo album of that Olympic team in my living room. They flip through it, see the [dunk] and go, "Whoa!" That's when it hits you that these kids were babies when this happened and never saw it. They freak out and can't believe it.
They say: "You were part of the Olympics, coach? You were there?" And I say, "Yeah, I saw it happen, and I still can't believe how he did it." That set the standard for what a highlight dunk is.
Vince Carter: Maybe it's been done before, and if so, I would love to hear about it. I don't know if people ever said, "I want to go out there and do this and see what happens." You never plan for something like that. It would never work.
Tim Hardaway: I mean, who does that? Nobody does that. Michael Jordan didn't do that. Clyde Drexler didn't do that. David Thompson didn't do that. Dr. J. didn't do that. And [Vince] did it in the Olympics.
Mo Peterson: When Vince came back [from Sydney], he gave me a picture of that dunk. I kept it in my car for I don't know how long. I still have it somewhere around here. Someone captured it from a view right over his head. It was a Polaroid that they snapped. A Polaroid! You remember them?
Shaun Powell: You look for those moments in the Olympics. When Charles Barkley elbowed the Angolan in 1992 — that was a moment. When Scottie Pippen is dogging Toni Kukoc — that was a moment. You look to chronicle a moment that's going to be talked about the next few days. That Vince Carter dunk was one of those moments. But that dunk is going to live beyond Vince Carter. It's going to live forever.
Vince Carter: That's funny, man. I'm 38. It was just a case when the moon and stars lined up just right for me at that moment. I never thought, talked about, dreamed of, imagined — whatever, you name it — I could do something like that.
I never would think to try to jump over a 7-footer. Figured I'd hurt myself.
ESPN.com NBA writers J.A. Adande, Baxter Holmes, Dave McMenamin, Arash Markazi and European correspondent Mark Woods contributed to this report. You can follow ESPN.com NBA senior editor Rob Peterson on Twitter @ShotDrJr
Michael WallaceWallace has covered the NBA for ESPN since 2010. Prior to ESPN, he also covered the NFL, SEC and ACC, as well as the Olympic trials, politics, education and crime for nearly 20 years.