They remember Detroit Pistons scout Maury Hanks falling through the attic floor of his house, crashing into a bedroom and fracturing his back. They remember him leaving a college scouting assignment in Charlotte, North Carolina, a driver running a stop sign and T-boning his car. Through it all, the NBA's scouting fraternity remembers a cantankerous, caustic Maury Hanks walking back into the gymnasium, voice booming, busting chops and chasing stardust.
"The ultimate survivor," said longtime friend Scott Howard, a scout with the Denver Nuggets.
Across the NBA, they're hoping Hanks, 62, has one more great escape left in him. Hanks has contracted the coronavirus and taken a terrible turn. He has been admitted to the ICU of a Tennessee hospital and is fighting for his life. As the NBA suspended play in the wake of the pandemic, it appears no team individual has been hit harder than Hanks.
His wife, Susan, is keeping his extensive cadre of friends in basketball informed with texts and calls. The week has been turbulent, but Hanks is hanging in there. There has been reason for optimism, but there's still a long, long way to go.
In a profession of characters, Hanks is one of the unforgettables.
"Mo may have the biggest worldwide network of relationships of anyone in basketball," Howard says. "I told Susan that he's going to insult COVID-19 right out of the room."
"I've talked to him twice a day, every day, for the past 10 years," Chicago Bulls assistant GM Brian Hagen said. "He's my Apple News service."
1 Related
The skill of a scout isn't only his eyes, but his ears. Few get more intel than Hanks. If you're a pro prospect, Hanks knows your strengths and weaknesses. Yes, he makes it his business to know what time you get to the gym, how you treat the student managers and how much weed you smoke.
Decades of relationships, born out of assistant coaching and recruiting jobs everywhere from the WAC to the Missouri Valley to the ACC, help make it possible. He has done it all, and does it all. His company, Global Sports, runs in-season college tournaments in the Southeast and organizes overseas summer tours for NCAA teams. Before they were outlawed, he coached barnstorming caravans against college teams. He practically invented the idea of hosting a Final Four party for college and pro coaches. Every year, I get the text: "Are you coming to my event?"
Bobby Lutz is one of Hanks' oldest, closest friends, all the way back to their days recruiting lottery picks to Clemson. Lutz is an assistant coach at Nebraska for Fred Hoiberg now. Last weekend, Hanks let Lutz know that he wasn't feeling well and planned to take a coronavirus test.
"Is there anything I can do for you, Mo?" Lutz said.
"Yeah, get Fred to sign that contract for the Destin (Florida) tournament!"
Hanks can be caustic in draft rooms, punctuating his case with impassioned declarations of certainty — and metaphors that can make some blush. During the 2008 NBA draft, the Nets were thrilled center Brook Lopez dropped to them at No. 10. Hanks had loved Lopez, pushed hard for him, but truth be told, Lopez wasn't a tough call that deep into the draft.
When the Nets chose again at No. 21, Hanks was relentless in his push for California's Ryan Anderson. He might have torn the room apart had the Nets passed on him.
"We could've gone a lot of ways at 21, and Maury and [GM] Kiki [VanDeWeghe] really battled on that one," said Bobby Marks, a former Nets executive who now works for ESPN. "Maury really put Ryan in the forefront for us."
As Gregg Polinsky, Pistons director of player personnel, said: "In my position, you walk into the [draft] room and maybe somebody in ownership or a coach tries to flip it on you — and Maury always held the line. He never, never flips. It's an incredible quality. So many guys would rather keep their job than keep their principles. Maury always keeps his principles."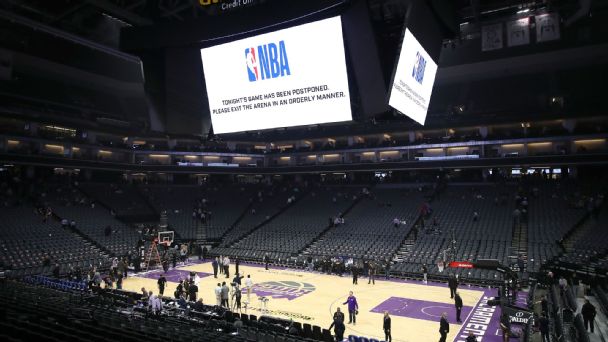 The NBA announced that due to the ongoing coronavirus pandemic, the 2019-20 season would be suspended effective March 12.
Latest news
• NBA execs to see 20% salary cut
• KAT: Mom in coma, showed symptoms
• LeBron: No excitement, joy without fans
• Full list of cancellations, suspensions
Those are the victories that scouts cherish, but no one in the NBA has been talking much about Hanks' years with the Nets and Raptors and Pistons this week. They're talking about his loyalty, his generosity, the fierce devotion he has had to those in the profession. The life of a scout lends itself to easier contraction and transmission of the virus. Hanks' plight is a reminder that once the NBA does get up and running again, the league's scouts will need to take extraordinary caution moving about the world.
Coaching and scouting had always been the love of his life, until it delivered him his truest love of all. Several years ago, Hanks was courtside scouting the Maui Invitational when — surprise, surprise — a player flew over the table and toppled him to the floor. On the game's broadcast call, ESPN's Jay Bilas alerted the audience to the name of the familiar face who was peeling himself off the floor and back into his chair.
"One of my favorite people in all of basketball," Bilas said Thursday. "Every time I see him, I leave laughing."
Susan happened to be watching that game. She recognized Maury from their time together at Clemson decades ago: he as an assistant coach; she as an undergraduate. She called the Nets' offices and asked for a way to reach him. The rest is a love story that only basketball could tell.
Over the past two days, Pistons GM Ed Stefanski has been sending Susan's updates to a text chain of team executives, coaches and old co-workers. Those have been encouraging, especially given how dire things appeared mere days ago.
Everyone's pulling for him and counting on this: The ball will start bouncing again, the games will return, and Maury Hanks will come marching back into the gym.