IRVINE, Calif. — An offensive lineman was probably the last player expected to show off his wheels early in training camp when the Los Angeles Rams' offense was forced to run a set of sprints after losing to the defense in a drill.
But there was Andrew Whitworth, the Rams' behemoth left tackle — not to mention the oldest offensive lineman in the league — barreling toward the finish line to beat out his teammates in sprints.
"That's kind of par for the course for him," coach Sean McVay said after the practice. "That's why he's Old Faithful."
Whitworth, who is 6-foot-7, 330 pounds and 36 years old, is entering his 13th NFL season and continues to set the bar as his teammates often look at him and wonder: How is he still doing it?
"I still love the game," said Whitworth.
But there's more to Whitworth's longevity than a fondness for football. He's a self-admitted glutton for punishment, enabling him to engage in a grueling offseason workout regimen that he credits, in part, for his ability to continue playing while other linemen his age have been forced out of the game.
"I'm a little messed up. I like to punish myself, that's the bottom line," Whitworth said. "Finding new ways to kind of put yourself through adversity and adapt to that and see how much farther you can go."
This offseason, Whitworth's workouts included "a smorgasbord of training," he said. CrossFit, mixed martial arts, power lifting, interval training and running became routine.
"What intrigued me about [CrossFit] is that in doing MMA training and learning the kind of fitness level those guys are in, where it's just kind of a fight-gone-bad kind of mentality, it's just going to be horrifying and you're just going to have to get through the workout," Whitworth said. "That's a lot of what CrossFit is. So it kind of intrigued me because I got into both of them, kind of feeling like how deep can you go in your mind to find what you can put into something."
Kind of like last season, his first in Los Angeles.
After playing 11 seasons with the Cincinnati Bengals, Whitworth opted to sign a three-year, $36 million contract with the Rams, a team coming off a four-win season that had just hired the youngest head coach in NFL history.
Whitworth, who is four years older than McVay, instantly became a cornerstone of the locker room, helping to reshape the team culture, and proving instrumental on the field as the Rams won their first division title since 2003 and made the playoffs for the first time in 12 seasons. Whitworth anchored the only offensive line unit in the NFL to start the same five players for the first 15 games. They helped spring Todd Gurley to 1,305 rushing yards and 13 touchdowns and allowed Jared Goff to pass for 3,308 yards and 28 touchdowns, while being sacked 25 times.
With Super Bowl expectations this season, much will again ride on Whitworth's leadership, his ability to stay healthy and, perhaps most importantly, his ability to keep Goff upright.
It's the opportunity for which Whitworth has been training.
About six years ago, Whitworth began studying the careers of older linemen. He found that as most aged, they became overweight and their bodies failed to move like they once did. Whitworth knew he would have to break the mold.
"[The workouts] really became about trying to lean myself out and not be a 350-pound lineman," Whitworth said. "But figure out a way to play at 320, 310, and be as lean and have as much muscle as possible at the same time."
Diet is part of it, Whitworth said, but he mostly credits the training.
"Every offseason I go into it and find something that reinvigorates me," Whitworth said. "Like, it'd be fun to go hit bags this offseason, or it'd be fun to get into CrossFit, or [power] clean, or see where I can compete with some of those people in the CrossFit gym. Just finding ways to make it feel like year-round I'm in a sport."
This summer, Whitworth enjoyed a family vacation in Colorado. It also provided him an opportunity for altitude training at about 8,000 feet. "I'm carrying stuff, pushing stuff up hills," Whitworth said. "It's quite intense."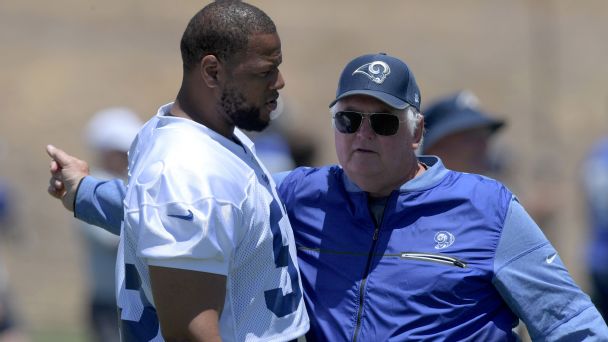 From a bar in Hawaii to L.A.'s most notable sushi restaurant, the Rams were everywhere, taking over the offseason. Three All-Pro additions, a trade and Aaron Donald. It's all part of a wild six months. Lindsey Thiry
For all the pain he endures, he also mixes in some yoga, but not necessarily as a workout. "I call that more my therapy," he said.
Defensive end Michael Brockers, 27, is one of Whitworth's many admirers. He is trying to find the discipline to replicate Whitworth's routine, knowing he too will soon be fighting the effects of age.
"I look at him and I'm like, 'Bro, I don't know how you get out here this early and just walk,'" Brockers said. "Like after a game, he's out here walking, jogging the field and I'm like, 'OK, how does he do that? And how do I find the legs to get that done?' So I just look up to him."
Other young linemen are watching, too.
Whitworth's contract expires after the 2019 season, and it seems improbable he'll continue, at least with the Rams, beyond age 38.
In April, the Rams drafted TCU tackle Joseph Noteboom in the third round. The expectation is that Noteboom, 23, will learn from Whitworth before taking over the position.
"When he talks I zone in and listen to everything he says," Noteboom said. "I wouldn't want to have it any other way than to have someone so successful at my exact position to watch and learn from, not only on the field but off the field."
By no means does Whitworth feel like he did when he was younger. But he feels good enough to keep going.
As for winning the sprints at the start of training camp, Whitworth didn't credit his training regimen or fitness. That, he said, was just effort.
"It's something you don't want to have to do," Whitworth said. "You have to run because the defense beat us in a drill, but you know what? Use it as an opportunity to find a way to hit a new switch and push it as hard as you can if it's in there."
ESPN's Dan Graziano contributed to this report.