The two most impactful quarterbacks of 2017 both ended their seasons on the sidelines with torn ACLs. Deshaun Watson and Carson Wentz put together highlight-reel campaigns before being struck down with knee injuries.
Watson's injury came in practice after six starts, while Wentz's season ended as he was attempting to scramble for a touchdown against the Rams in December. Their injuries were not the same — Watson's was strictly an ACL tear, while Wentz also tore his LCL and had damage to his IT band — but the stories are similar enough: Young quarterback emerges as a superstar only to suffer a serious knee injury.
Bill Barnwell breaks down the NFL like no one else:
• Can Jimmy Garoppolo really save the Niners? »
• Building the perfect 53-man roster »
• Predicting which breakouts will stick »
• Meet the NFL's Eagles Copycat Club »
• 6 teams most likely to improve »
• These 6 teams will likely win fewer games »
• All the fallout from Rams' spending spree »
• Best, worst offensive arsenals from 32-1 »
More NFL coverage »
Thankfully, both are progressing through their rehab processes. Watson has made his way back to the field during the preseason, and while Wentz is still a question mark for Week 1, the Eagles shouldn't need to rush him back, with Super Bowl MVP Nick Foles available in reserve. Both Watson and Wentz should have bright futures and long careers ahead.
We can't predict exactly how Watson and Wentz will recover from their knee injuries, but what we can do is take a closer look at how they performed in 2017 to infer what they'll do on the field in 2018. There are plenty of reasons to be optimistic about both of these stars, but there are also elements of their games that are unlikely to pop up again — both good and bad. Let's start with Wentz (and if you want to skip ahead to Watson, click here).
---
Wentz was the favorite to take home MVP before he suffered that knee injury against the Rams, as the former second overall pick had thrown a league-leading 33 touchdown passes and had an NFL-best touchdown-to-interception ratio of 33-7. Wentz was fifth in passer rating, but his 75.9 Total QBR was tops among quarterbacks who were eligible for the passing title. Wentz's Eagles were 11-2, tied with the Steelers for the best record in football.
Maybe you preferred Tom Brady. That's fine. At the time he went down, though, Wentz had graduated from an inconsistent rookie season into a legitimate superstar passer in Year 2.
Even if Wentz hadn't torn up his knee, I think he would have struggled to maintain that level of play in 2018. He is still going to be a very good quarterback, but there were some elements of his game from a year ago that will be tough for him to recreate, no matter how good he gets. Wentz stood out by …
Moving the chains (and more) on third down
He was an absolute monster on third down in 2017. Wentz finished the season with a 123.7 passer rating on third down, which topped the league by a full 13 points. His 90.5 Total QBR in those same situations was 19 points better than anybody else's. Wentz racked up 9.5 yards per attempt on third-down passes, more than a full yard ahead of anyone else. You get the idea.
If we go back through recent history, his numbers still stand out. We have Total QBR numbers back through 2007, and Wentz's third-down mark was the ninth-best in that time frame. Look at the top 20 in that category, and you'll find multiple seasons from Brady, Peyton Manning, Aaron Rodgers and Drew Brees. It's the sort of company in which you would expect to see a franchise quarterback such as Wentz.
Very few of them, though, could keep up their third-down performance on an annual basis. During those top-20 seasons, our dominant third-down quarterbacks posted an average Total QBR of 88.3. The following season, those same passers were able to muster an average Total QBR of only 58.4, far closer to league average. (This excludes players who didn't play a significant number of snaps the following year due to injury.) Just one of the quarterbacks — Manning between 2008 and 2009 — improved on his mark from the prior year.
2 Related
The same is true for passer rating. Taking the top 20 passers since 2001, we find that their average passer rating on third down during their chain-moving campaigns was 118.6. During the following season, that mark fell to an average of 90.2. Just four of the 20 quarterbacks topped a passer rating of 100 on third down the following season. To put that in context, the league average for passer rating on third down in that time frame was 83.0.
The Eagles should feel the impact of Wentz regressing toward the mean on third down. Football Outsiders has noted for years how offenses that raise their game on third down struggle to keep it up for multiple seasons, and that was the case for the Eagles in 2017. As the Football Outsiders Almanac notes, the Eagles' offense was 13th in DVOA on first down and 20th on second down before leading the league on third down. At the time of Wentz's injury, the Eagles were converting 45.3 percent of their third downs, which would have been the third-best mark in football over a season.
Wentz's injury might impact Philadelphia's effectiveness on fourth down too. You probably remember the "Philly Special," but even before the playoffs, the Eagles went 15-of-21 on fourth down last season. Their 71.4 percent conversion rate was third best in the league, and Wentz played an enormous role in that success. He ran for a league-high seven conversions in seven tries on fourth down.
Will coach Doug Pederson be as aggressive in putting his quarterback's body at risk on fourth down? And if not, will teams be able to create turnovers by stopping the Eagles on fourth-and-short?
Dominating in the red zone
Wentz was devastating when defenses were backed up against their own goal lines. He threw 22 red zone touchdown passes — without a pick — and took zero sacks. His 96.7 Total QBR and 116.0 passer rating were best in the league among qualifying passers through Week 14. This after a rookie season in which Wentz posted a 35.8 Total QBR in the red zone, which was 27th in the league. His passer rating of 90.0 was better, but it pushed Wentz to only 21st in the league alongside Trevor Siemian.
When Wentz went down, the Eagles were averaging 5.46 points per trip to the red zone. (These numbers count field goals as worth three points and touchdowns worth 6.95 points.) That was the best mark in football, though Philadelphia dropped to 5.20 points per trip after Wentz was replaced by an initially ineffective Foles. The Jaguars were the only team to top Pederson's offense, with Blake Bortles & Co. averaging 5.35 points per excursion into the red zone.
Regardless of whether you use 5.46 or 5.20 as the Eagles' baseline for 2017, it's tough to stay that effective in the red zone. From 2001 to '16, 98 teams averaged five points or more per trip inside the 20. The following season, just 29 of those 98 teams were able to keep their inside-the-20 success going. The list includes four Manning-era Colts teams and eight Brady-led Patriots teams, though there's only two Rodgers seasons and nary a back-to-back appearance from the likes of Brees, Ben Roethlisberger or Russell Wilson.
Those 98 offenses declined by an average of just under a half-point per drive in the red zone. On the whole, the offenses lost an average of 39 points from the previous season, and they won an average of one fewer game than they did the prior season. The Eagles might be slightly less sensitive to a red zone decline on offense because their defense is so good, but it would be an impressive feat if Wentz could do as much in the red zone as he did last season before getting hurt.
Cutting back on interceptions
As a rookie, Wentz threw interceptions on a respectable 2.3 percent of his passes. That's good for a debuting passer, but it's not quite as impressive when you consider that Wentz's average pass traveled only 7.3 yards in the air, which was 26th in the league. Shorter passes are less likely to be intercepted than deeper throws, which was true for Wentz. While just 15.6 percent of his throws were "deep" passes traveling 16 or more yards downfield, those passes accounted for seven of his 14 picks.
The Eagles took the training wheels off Wentz last season and let him chuck it downfield. His average pass went 9.8 yards in the air, the second-highest mark in the league behind that of Jameis Winston. Typically, we'd associate that with more interceptions, but Wentz actually reduced his interception rate. He was picked off on only 1.6 percent of his pass attempts, the eighth-best mark in the league.

More people play on ESPN than anywhere else. Join or create a league in the No. 1 Fantasy Football game! Sign up for free!
It's incredibly tough to throw deep that frequently without getting picked off at even a league-average rate. Going back through 2007, there have been 18 players whose average pass attempts traveled between 9.5 and 10 yards in the air, including Wentz. The other 17 passers in this group combined to post an interception rate of 3.1 percent, nearly double Wentz's mark. (If we expand the group to a larger sample and include passers whose average throw was between 9 and 10 yards, the interception rate remains 3.1 percent.)
Wentz's 1.6 percent interception rate is tough for any quarterback to keep up, let alone a passer picking up chunks of yardage like Wentz. The signal-callers who have kept their interception rates this low are either relatively conservative quarterbacks (Brady, Alex Smith) or passers who sacrifice interceptions but have higher-than-average sack rates (Tyrod Taylor). Wentz does not yet fit into either category.
Football Outsiders also notes that Wentz had six dropped interceptions last season. When you add those in for every passer and remove the interceptions on Hail Mary attempts and tipped or dropped passes, Wentz's 2.8 percent adjusted interception rate is tied for 14th in the league alongside that of Eli Manning.
Adam Schefter details the latest on Philadelphia's QB situation as it chooses between Carson Wentz and Nick Foles as the starter for Week 1.
Improving on deeper passes
If anything, I think this is the place Wentz could continue to grow. As a rookie, he struggled on deeper passes, finishing 24th in QBR and 26th in passer rating on throws 16-plus yards downfield. Through the first four weeks of last season, Wentz wasn't much better. As an example, he missed Torrey Smith for what should have been a long touchdown on his first attempt of the season. As of Week 4, Wentz was 19th in QBR and 20th in passer rating on deep passes.
As the season progressed, though, Wentz noticeably improved. From Week 5 on, Wentz posted the league's sixth-best QBR on deep passes and was seventh in passer rating. Smith ended up having an uneven season, and Wentz could have gotten a little more help; his receivers dropped 3.2 percent of his deep throws from Week 5 on, slightly above the league average of 2.8 percent. If he can continue to be that guy on deep passes for an entire season and get an upgrade on Smith with extra snaps from Mack Hollins and Mike Wallace, Wentz might be able to overcome the likely regression he should expect in other places.
---
As good as Wentz was, Watson was better in a smaller sample. Lower the limits to 200 pass attempts — Watson had 204 — and the Texans star led the league in yards per attempt (8.3) and Total QBR (81.3). He succeeded with a stat line that looks more like a top passer from the 1970s than one from today, which seems remarkable given that Watson is about as modern of a quarterback as it gets. Understanding what he will do in 2018 starts with the fact that …
Watson succeeded despite an astronomical interception rate
It's virtually impossible for a quarterback to be good while throwing interceptions as frequently as Watson did last season. He threw eight picks on those 204 attempts, which was good for an interception rate of 3.9 percent. Only Siemian and DeShone Kizer threw interceptions more frequently with that 200-pass minimum. The Clemson star was on pace for a 486-pass season, which would have resulted in 19 interceptions over a full campaign.
Despite the fact that he threw a ton of interceptions, Watson was great! He posted the best passer rating by a quarterback with an interception rate between 3.5 and 4 percent since Y..A. Tittle in 1963. The group of passers who topped a 100 passer rating with this sort of interception rate includes Watson, three passers from before the AFL-NFL merger of 1970 and Chris Chandler's 1998 campaign. Just below them are more familiar names, including Roethlisberger's rookie campaign in 2004 and Tony Romo's first two seasons as a starter.
Usually, you can be good or you can throw interceptions. Watson did both.
The good news is that I think Watson should be better at avoiding interceptions as his career goes along — and even as early as 2018. For one, two of his interceptions came on Hail Mary attempts, which shouldn't be treated as meaningful. Watson had two dropped interceptions, per FO, so his adjusted interception rate is in the same ballpark, but the added interceptions for other quarterbacks push him to 29th-best in the league, ahead of seven other passers.
In watching those picks, there's a line running through the decisions: Watson often got greedy and tried to make off-schedule throws without setting his feet and getting his body moving forward and/or tried to squeeze his passes into impossible windows. He scrambles around the pocket before making a late throw into the end zone. He rushes a throw under pressure and sails a pick-six to Jason McCourty. The Texans run play-action and roll Watson out to the boundary and flood it with receivers, leaving no room and a pick for Richard Sherman when Watson throws off his back foot.
Those are the sorts of things rookies do. Watson's decision-making should get better as he continues to grow, just as Wentz's did a year ago.
Bill O'Brien should (hopefully) be more aggressive
The Texans coach deserves credit for reshaping his offense around Watson's skills, but his late-game decision-making didn't fit the offensive juggernaut O'Brien had constructed. You can't buy a Ferrari and spend your entire drive across the country in the right lane. In doing so, O'Brien cost the Texans possible wins against the Patriots and Seahawks.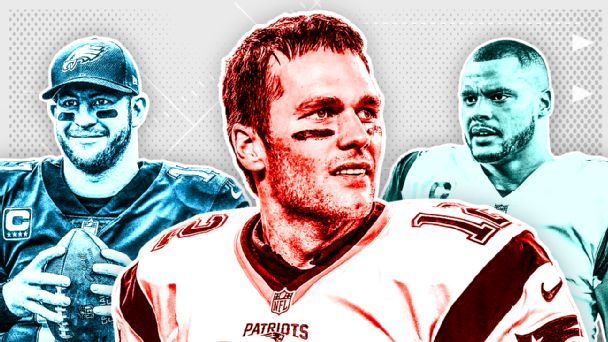 A panel of 50 NFL executives rated all 32 starters on a scale of 1 to 5. Where does your team's QB land?
• 2018 QB Tiers results: Execs rate all 32 starters


• Name that QB: Match the quote to the player
• Execs evaluate future of 2018 first-rounders
After Watson spent most of Week 3 decimating the Patriots' defense, O'Brien went conservative at the exact moment when his former boss Bill Belichick would have tried to seal things. The Texans faced a fourth-and-1 from the Patriots' 18-yard line with a two-point lead and 2:28 to go. The Patriots were down to one timeout and would have had two chances to stop the clock, so a conversion would have given the Patriots the ball back with no more than 30 seconds left (and possibly ended the game with a touchdown or a second conversion). Instead, the Texans kicked a field goal to turn a two-point lead into a five-point lead and dared Tom Brady to drive down the field on their defense. He did so with 23 seconds to spare.
Five weeks later, O'Brien got conservative in a different way. Watson ran for a first down to get the ball to his own 20-yard line at the two-minute warning with a four-point lead. The Seahawks had all of their timeouts, but one first down would have basically wrapped up the game. In a game in which Watson had thrown for 407 yards and run for 62, O'Brien … handed the ball to Lamar Miller three times. The Seahawks used their three timeouts, and on fourth-and-2 from his own 28-yard line, O'Brien decided that the chances of punting with his defense keeping the Seahawks from scoring a touchdown were better than his chances of either converting a fourth-and-two or stopping the Seahawks from punching the ball in the end zone from 28 yards out. The Seahawks scored in three plays.
Doug Pederson's success going for it on fourth down in 2017 should encourage coaches with great offenses to trust them on fourth-and-short in key moments. (Likewise, as Pederson noted, coaches should learn from Doug Marrone's letting the Patriots off the hook in the AFC Championship Game.) Coaches work too hard during the week to hurt themselves with poor decisions on fourth-and-short. Yes, they're going to take some heat if they go for it late in a game and the decision doesn't go their way. But Pederson showed throughout last season that the upside is worth the risk. The Texans have to place their faith in Watson & Co.
Stephania Bell and Field Yates discuss what to expect from Deshaun Watson as he works his way back from an ACL tear.
Watson's receivers did incredible work
As much as Watson's interception rate made him look like a quarterback out of the 1970s, his average pass distance only furthers the story. Watson averaged a whopping 11.1 air yards per throw during his time as a starter, which is something out of a Joe Namath stat line. That's the third-deepest average pass in a 200-attempt season since 2006, and the two guys who topped Watson were famously unique: Tim Tebow (2011) and Michael Vick (2006).
Typically, when you see a passing offense with a lot of deep passes, you get a lot of drops. Receivers dropped 6.6 percent of Tebow's passes and 7.0 percent of Vick's throws during their respective seasons. They're not alone. When you look at the quarterbacks whose average pass distance has traveled 10 yards in the air or more since 2006 before Watson, the average drop rate for those quarterbacks was 4.9 percent.
Watson's drop rate was 1.0 percent. One percent! Part of that is the nature of a smaller sample, but 1.0 percent is the lowest drop rate we've seen for any quarterback with 200 or more pass attempts since 2006, when ESPN's drop data starts. The previous low was 1.7 percent, coincidentally set by the Texans' Matt Schaub in 2013. Marcus Mariota and Matt Ryan were at 1.8 percent in 2016. None of those passers was throwing anywhere near as deep as Watson was last season. There's no way that's going to keep up in 2018.
Watson was incredible on play-action
This shouldn't be a surprise given Watson's abilities as a runner. Opposing defenses simply couldn't deal with Houston's play-action game last season. When he faked a handoff, Watson averaged 10.3 yards per attempt, with a 124.3 passer rating and a staggering 95.6 Total QBR. The latter number led the league and was the fourth-best QBR by a passer with 50 or more play-action attempts since 2007.
Watson should still be effective on play-action in 2018, but it will be tough for the second-year passer to be as good.
The Texans' schedule was relatively easy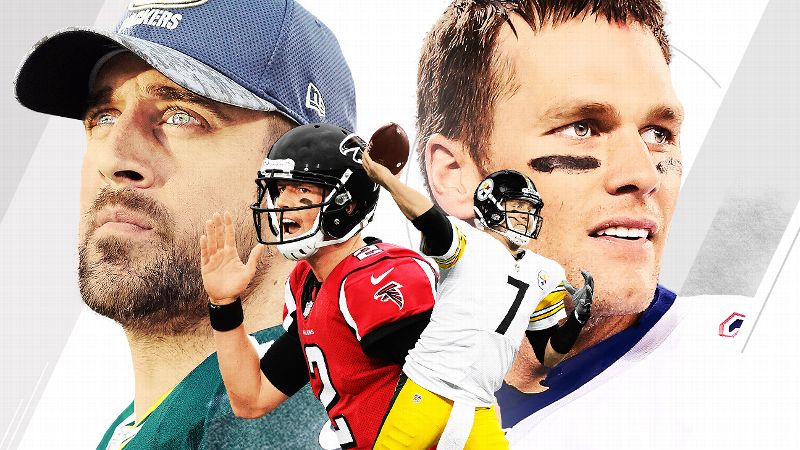 These are the best stories about the most important position on the field:
• Can Jimmy G really save the 49ers? »
• Ranking NFL bargains from 1-32 »
• Andrew Luck's journey back from the brink »
• The best and worst QBs at everything »
More NFL coverage »
Watson came in for the second half of a brutal loss to the Jaguars in Week 1, but after that, he faced a pretty middling group of defenses before the ACL tear. His final start was against a Seahawks defense that finished the season 13th in defensive DVOA and was likely better earlier in the season, before dealing with the injuries that seemed to afflict nearly every one of the star contributors. Otherwise, Watson's starts were against below-average pass defenses, including the Bengals (17th), Patriots (21st), Chiefs (23rd), Titans (24th) and Browns (26th).
I'm not so sure, though, that Watson's schedule will be much tougher in 2018. Although it's not a specific projection of defensive performance, both the ESPN Football Power Index and Football Outsiders project that Watson's Texans will face the league's second-easiest schedule this season. Watson will have to play the Jaguars twice, but he gets the 32nd-ranked pass defense of the Colts twice too.
---
What's next
Both Watson and Wentz should be very good if they stay healthy in 2018. The way that they succeed, though, is extremely likely to look different from the way we saw them bust out in 2017. It wouldn't be unreasonable to expect both to produce slightly less impressive numbers than the figures we saw last season. If they're both healthy heading into the postseason, though, I suspect their organizations will happily make that trade. Health concerns — particularly for Watson, who has now torn each of his ACLs — should be the only obstacles between these two franchise quarterbacks and MVP contention in the years to come.