ORCHARD PARK, N.Y. — Rookie first-round pick Josh Allen will make his first start for the Buffalo Bills this Sunday, but he might be only the second-most-popular quarterback to fans at New Era Field attending the team's third preseason game.
Andy Dalton is expected to be the star of the show when the Cincinnati Bengals arrive in town for the first time since knocking out the Baltimore Ravens last season in the teams' regular-season finale to give the Bills their first playoff berth since 1999.
Dalton became a folk hero in Buffalo when his improbable 49-yard touchdown pass to wide receiver Tyler Boyd on fourth-and-12 sent the Bills to the playoffs to end a 17-year drought.
"Somebody said [Dalton] could run for mayor in Buffalo and put up a fight against Byron Brown in an election if he wanted to," said Del Reid, the co-founder of the "Bills Mafia" fan group and creator of 26 Shirts, a Buffalo-based company that sells T-shirts and donates part of its proceeds to local, charitable organizations.
When Andy Dalton's TD pass beat the Ravens and put Buffalo in the playoffs, Bills fans began donating in droves to Dalton's foundation, writes Katherine Terrell.
The Bengals' heroics spurred Bills fans to begin donating to the Andy and Jordan Dalton Foundation, mostly in increments of $17 because of the number of years of Buffalo's playoff drought. In total, more than $415,000 has been donated to Dalton's charity as a result of his touchdown to Boyd.
"I love that story because, as a club, we do a lot of things — PR, marketing — we do a lot of stuff, [but] that was totally fan-based," Bills owner and president Kim Pegula said this week. "I love how organic that was and how it represented our fans. We get a lot of flak for jumping on the tables and some of the craziness we do. But then for our fans to kind of turn it around and show that kind of respect and appreciation to an opposing team, I'm sure our fan base is going to be very appreciative and give him a very big welcome, for sure."
Dalton and his wife, Jordan, are giving back to Buffalo. On Sunday, she will announce a donation to pediatric department of Roswell Park Comprehensive Cancer Center and host a gathering of Bills fans, including Reid and Kevin Forrest, the first fan to donate to Dalton's charity. The Bills then will host the Bengals at 4 p.m.
"Not that it's possible after all that money getting donated, but I think [the Daltons] are going to be very surprised at the reception that they get even eight months later," Reid said this week. "I think it's going to be pretty cool. I'm really looking forward to it. I'm so glad it's a preseason game, too. It's going to have more of a lighthearted feel to it."
Meanwhile, Bills fans continue to savor the moment that last Dec. 31 put them in the playoffs.
"It sounds so corny to say it, but it was such a magical moment when that whole thing happened," Reid said. "They have that one highlight where they actually worked the whole 'Titanic' theme song into it. I've probably watched that 50 times."
As told by Reid, Pegula and then-Bills rookie cornerback Tre'Davious White, here is a blow-by-blow look at the night that buried Buffalo's 17 years of misery:
The Bills travel to Miami knowing that to make the playoffs, they must win and have either the Bengals beat the Ravens or have both the Tennessee Titans and Los Angeles Chargers lose their respective games. The Titans and Chargers both hold comfortable halftime leads, dimming that path for Buffalo. But the Bills lead the Dolphins at halftime 10-0, and the Bengals lead the Ravens 17-10.
Reid: "We actually were at a friend's house because it was New Year's Eve. I'm sure everybody's story has a twist to it because of that one factor. Because it was a Sunday, as well, we at 26 Shirts had a shirt launch scheduled for the next day. We decided that if the Bills make the playoffs, it would be a football-themed T-shirt. Otherwise it would be a hockey-themed T-shirt. So I brought my laptop with me, as any good social person would do. I had the two product listings set up. It was a strange paradox. On one hand, I had this fandom and this thing I've been waiting for 17 years to happen. And then I also have to put on my business hat, as well, too. I had to try to remain calm and cool — which I did not — as much as I could through the entire thing."
White: "It was crazy. We were literally sitting on the sideline. The game wasn't even done. We were looking back, asking people, 'What's the score of the [Bengals-Ravens] game?' We were trying to keep up with it. The only thing we could control was the outcome of our game, and we were focusing on that. But that was in the back of our mind for sure."
The Bills take a 22-3 lead early in the fourth quarter on a field goal, but the Dolphins respond with a 75-yard touchdown drive that is followed by a failed two-point conversion. Leading 22-9, the Bills punt back to the Dolphins with five minutes remaining in the game. Miami then drives 68 yards for another touchdown with less than two minutes remaining and recovers the subsequent onside kick.
Pegula: "It looked like we were going to win. But then [Miami] started coming back. Whenever it was close, I really start pacing. And then I think they put the camera on me pacing in our suite. I had so many people like, 'Oh my gosh, what are you pacing for?' So many people texted me on that. So I was getting nervous because Miami was starting to come back."
Bills safety Jordan Poyer intercepts Dolphins quarterback David Fales with 56 seconds remaining in the game, sealing Buffalo's 22-16 victory. Bills players begin to enter the locker room, including White, who is chanting, 'Who Dey!' in support of the Bengals.
White: "Who Dey! I had a couple of teammates on that team. Jeremy Hill and Brandon LaFell, who played at LSU. That's the reason why I was cheering for them also. I had extra motivation. They knew what it took [for the Bills to make the playoffs]. I think I wrote Brandon LaFell on Instagram that we needed that win. We were going to handle our business and just help us get into the playoffs and anything could happen."
Down 27-24 to the Ravens, the Bengals begin a drive from their own 10-yard line with less than three minutes remaining.
Pegula: "I never go down to the locker room. So [owner] Terry [Pegula] and [assistant general manager] Joe [Schoen] and [general manager] Brandon [Beane], they're already down in the locker room. I was in the suite. We were watching the Bengals game. So then they shut off all the TVs in all the suites. I was like, 'What the heck? What's going on?' So then I was like, 'OK, it's fine. I don't want to know.' So the other people that were in our suite, they were like, 'We're going to watch out in the hallway.' So they went out to the club. I'm just sitting in the suite by myself. All the TVs are off. Just because I couldn't stand the suspense."
On third-and-5 from the Bengals' 48-yard line with 1:23 remaining in the game, Dalton is intercepted by Ravens safety Eric Weddle.
Reid: "I said, 'All right, that's it.' I saved my progress and everything that I had set up. Saved up the hockey shirt. Because I'm getting on with my night. That's it. I'm done. I closed up my laptop and everything."
Ravens cornerback Marlon Humphrey is called for defensive holding, negating Weddle's interception and giving the Bengals a first down from the Ravens' 47-yard line.
Reid: "It turns out there's a penalty. So I'm like, 'Here we go again.' So I had to fire back up my MacBook and everything."
Pegula: "I would hear noises coming from outside. So finally, a friend of mine came in and was like, 'Kim, it's the final few minutes.' She's like, 'You got to come out.' I was like, 'OK, fine.' So I go out there and there's like this big crowd. It was on the suite level, but there's this big bar, this TV up, and it's just open. So I go there and I'm trying to hide in the back."
The Bengals are called for an illegal shift on first down, and then Dalton's first-down pass falls incomplete, resulting in second-and-15 from the Cincinnati 48-yard line.
White: "We came in [the locker room]. The game was on. When we started watching, I think it was like second down. They didn't get it."
Dalton completes a 3-yard pass to tight end Tyler Kroft on third-and-15, resulting in fourth-and-12 from the Ravens' 49-yard line. Dalton's pass is complete to Boyd down the seam, and he evades defenders for the touchdown.
Pegula: "Watching that play, as soon as the Bengals scored, it was just eruption. It was all Bills fans just watching it at this bar out in the hallway area. Chaos."
White: "Once Dalton threw the ball, Boyd caught it, the whole locker room just — it was numb. It was loud, but you couldn't hear nothing. There was so much going on. I just remember the whole room being filled with emotion and knowing that we did a big deal for this city, and it was something that we celebrated for a while in the locker room."
From Miami, to Buffalo, to New York City…

That playoff moment! #GoBills pic.twitter.com/67p8tn0XEe

— Buffalo Bills (@buffalobills) January 1, 2018
Reid: "There's all this screaming and yelling. It was actually a really cool thing because my daughters are 15 and 12, and their only experience with the Bills has been ultimately disappointment every season. So there was actually a time several years ago where my one daughter asked me, 'Why do you keep doing this?' I'm like, 'Because when they win, it's so much fun.' I've told her the whole city comes alive. I said, 'One day, when they actually get over this hump, you're going to see how different everything becomes.' So it was really cool they actually got to see all of the grown-ups jumping up and down and screaming and yelling. Even some of the wives who are normally more reserved at the outcome of the football game, they were jumping up and down and yelling and screaming and everything."
The Bengals lead 31-27 with 44 seconds remaining in the game. The Ravens fail to convert a first down, sealing Cincinnati's win and putting Buffalo in the playoffs.
Pegula: "We go downstairs, and obviously I get ding, ding, ding on my phone — literally over a hundred text messages coming in. Usually after a game, I don't normally go down into the locker room. I don't normally see the guys that often unless I'm flying back with the team. But this time, there was more players outside the bus and there was more interaction. So I was hugging people and the [players'] families that came for the game, because Miami is a popular away game to come to."
White: "That was my first time ever standing up on a plane that long, for the whole flight. It was a party. It was a party the whole way back. Everybody was up. The coaches was up. All the players. It was fun, man. It was a 2Æ-hour plane ride and we had fun the whole time."
Hall of Fame and former Bills running back Thurman Thomas is attending the game at Hard Rock Stadium and celebrates with fans who were watching the end of the Bengals-Ravens game on televisions in the concourse.
Here We Go! pic.twitter.com/JRpIT6sUL7

— Thurman Thomas (@thurmanthomas) January 1, 2018
Upon arrival at the Buffalo airport, the Bills' plane is greeted by hundreds of fans lined up against a fence. Players celebrate with fans as they leave the parking lot.
White: "Getting home, all the people celebrating with us. It was a good deal. Something that I never forget and something that it was definitely special for this team."
Welcomed home by the best fans in the world.

WOW. #GoBills pic.twitter.com/wSdKx9g2JW

— Buffalo Bills (@buffalobills) January 1, 2018
Pegula: "The one regret is that I wish I had come back. Because we live there in Boca Raton. And it was New Year's Eve. So we didn't fly back with the team. Now that I think about it — it didn't dawn on me — I should have gone back with the team. Because when I saw the video of the team coming back to the fans on the fence, that's when it really hit home. Just realizing what had just happened and what that had meant to the city. After the game, it was more just happiness that you've made it, and you're with the players and things like that. But when I saw the video of the team flying back and the fans in 4-degree weather on New Year's Eve, that, to me, really hit it home. That's my one regret. So next time anything major happens, I'm flying back with the team. I'm not going to miss it. Because I do regret missing that. It was awesome. And then we had all those people sending in those videos of where they were and what they were doing. Every time I see it, it still gives me chills."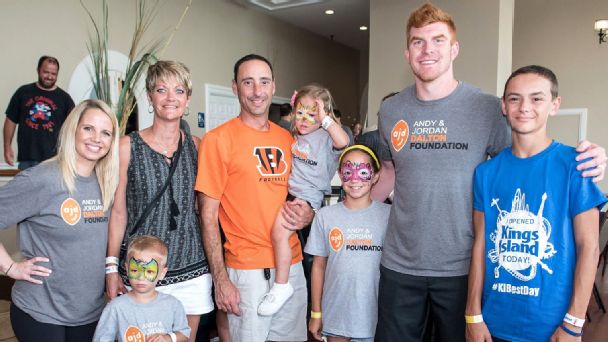 • How Dalton TD pass became $450K miracle
• Buffalo recalls New Year's miracle
• Stafford: Best QB never to win playoff game
• No retirement tour for 'ageless' Gore
• Clinton-Dix excited again to come to work
• Steelers duo the very best of 'ends'
White: "Getting back, we had another party. And then we all went out together as a group. We enjoyed that night. I don't even remember where we ended up. It was fun, though."
Pegula: "It was just Terry [Pegula] and I [at home in Boca Raton]. My kids went to a party. So it was pretty lame. It was him and I, New Year's Eve. We started drinking at home. That was pretty awesome.
Reid: "The whole 'New Year' term took on a different connotation because now it was like this new experience for so many fans. When you think about it, 17 years — that's like being born and graduating high school. … A whole new world opened up."
Pegula: "I lived here in Buffalo back in the early 1990s, before the real decline. Then I moved out of town. So even though I [was] aware of the [playoff] drought and [felt] it, it wasn't as daunting to me because I hadn't been in Buffalo for a while for a major part of that. So that whole response, it was crazy. It was amazing. I kept thinking then — not to get ahead of ourselves — can you imagine if we actually started winning playoff games and getting back into Super Bowl games? Your mind is just like, 'Oh my gosh, can you imagine what that is going to be like?'"